Other World Computing Booth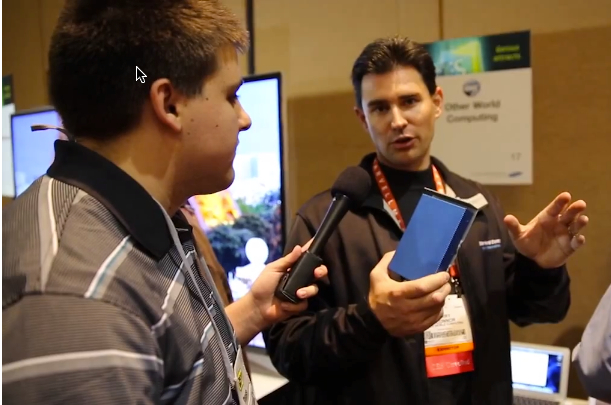 Need to upgrade your Mac? There is no other place than Other World Computing (OWC). Over at CES 2013, they showed off a bunch of new additions/upgrades to your mac.
The first one is the OWC Viper, a large capacity SSD in a 3.5 inch form factor transferring 6 gigabits per second. Currently, the Viper is known as the fastest 6 gigabit drive on the market currently and designed to maximize any 6 gigabit single channel (or whatever your computer can handle). Drives range from 240 GB to 2 TB.
The second one is the OWC Envoy Pro, a small USB 3.0 external drive (or a large flash drive) that can go up to 480 GB and transferring 400 megabits per second. The drive inside is OWC's Aura Pro, which can be purchased to upgrade your existing MacBook Pro Retina. Both the internal drive and case can be purchased separately or combined.
The last one is the OWC's Thunderbolt PCI Express external drive case that is compatible with both Mac and Windows that are Thunderbolt equipped. The external case comes with OWC's Accelsior SSD, a PCI RAID solution that does the transfer up to 820 megabits per second on the computer . An extremely high performance drive for an extremely competitive price.
Pricing and availability to be determined.