Pandora Files To Go Public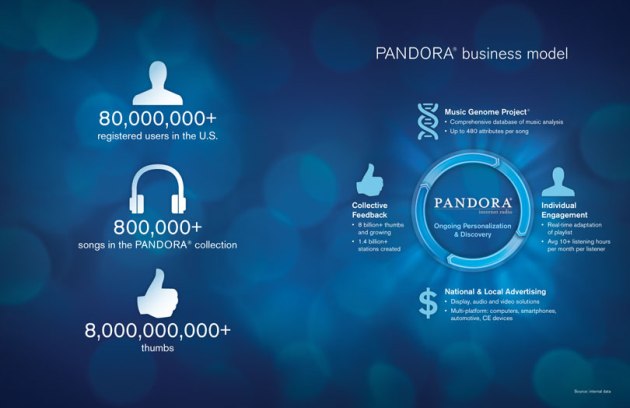 The popular music streaming service Pandora has filed papers today to officially become a public company. The service looking to raise about $100 million. The filing with the Securities and Exchange Commission gives Pandora a IPO (initial public offering) date of around the middle of this year.
Pandora did not disclose finer details in its filing, but did let us know more about Pandora's financial situation. Pandora is looking to stop breaking even with the service, for the past couple of months Pandora reported revenue of about $90 million, $77.8 million coming from advertising and $12.2 million from subscriptions. The reported loss of the last announcement was $0.3 million. Pandora seems to be teetering on the edge of loosing massive amounts of money and staying a big hit.
Summing it up in the filing, Pandora reports 80 million users are registered with the site, the database of songs has grown to 800,000 with 80,000 artists. From a year ago Pandora nearly doubled with 46 million reported a year ago. On average a user listens to Pandora more than 10 hours a month, the majority of that activity takes place on mobile devices. Also in the filing the number of hours listened on a mobile device far outweigh the number of hours listened on a computer.
With this year expected to be even greater than last, Pandora is climbing a tall hill that just keeps going and going.