Both of these services support many types of rich media types. These networks fill the space between Twitter and WordPress.
I love and use both blogging platforms and believe that both have their unique uses. Tumblr is more of a content blog, many of the themes are better for blog entries, or any type of text media. Posterous is more of a media type blog for posting video, audio and pictures.
Posterous has an amazing feature called email-to-blog, Posterous' amazing platform allows for those quick writers to just use their email account for posting to their blog. Tumblr also has its advantages with a very simple and easy to use iPhone application and admin section.
Both Posterous and Tumblr have bookmarklets that make grabbing content as you browse and posting it to your site easy as can be. But, I have to give it up to Tumblr for having a much easier bookmarklet to quickly post to their blog.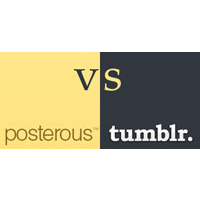 Posterous does have an amazing come back with email-to-post. . Email whatever you want — photos, videos (even iPhone 4 vids), audio — to [email protected] and it will do the rest. Your subject line becomes the title, the email body your post description, and you can even add tags to your post by adding them with the proper syntax to the subject line: ((tag: social media, photo)).
You can basically import content from any blogging platform ever created (you can export too), and push your Posterous content out to any social site where you have a following.
Both have their advantages and disadvantages, use both for a week and see what you like best. I like Tumblr because of the ease of use, but I also like Posterous for some really exciting themes.