Rotten Tomatoes Now On iTunes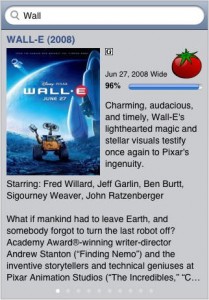 The popular movie review site Rotten Tomatoes has announced is now integrated with Apple's iTunes Store, giving viewers the chance to instantly see the rating of a movie in the form of a popularity gauge cleverly called a Tomatometer.
Rotten Tomatoes is not a new company from out of the blue, they have been around since 1998. Just recently they were acquired by Flixster. How Rotten Tomatoes works is it takes the reviews of professional movie critics from around the world, counts the reviews as positive (fresh) or negative (rotten) and turns them into a percentage-based graph.
With the new integration you can see the Tomatometer in the movie descriptions on iTunes, along with a couple of snippets of the critics' reviews. This is a great and simple way to quickly check whether a movie is worth watching or if you want more info, you can hop over to Rotten Tomatoes for more reviews with a click.