Scripps Local News Blocking NASA Rover Landing Video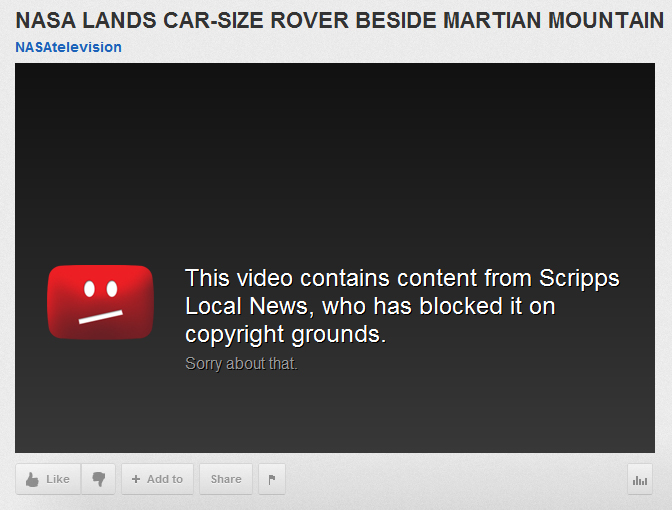 A mysterious company has popped up around the NASATelevision YouTube channel, this company has filed many copyright infringement claims over NASA's videos. Videos that NASA took themselves and published themselves are being successfully taken down over false claims. It is unknown if these are automated takedown notifications or filed by an actual person but they are taking down the greatest moments in history.
As I write this article at 1:30AM the video that NASA just uploaded to their YouTube channel is being blocked by Scripps Local News for copyright infringement. Almost minutes after going up YouTube's system seems to have incorrectly associated whose content it really is and blocked the person that has come late to the game, who also happens to be the creator of the video.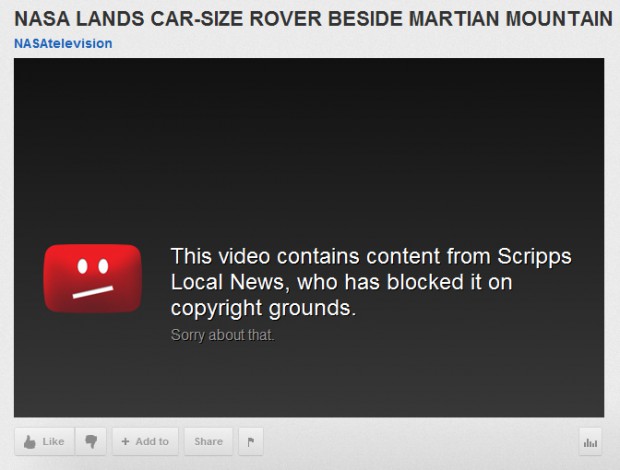 The only explanation that I can think of without digging too far into the matter is that, Scripps Local News who happens to be a YouTube Partner and apart of the ContentID system uploaded a news broadcast using live sections of the NASA video that was trying to be uploaded. This ended up being caught by the ContentID system as owned by Scripps Local News because they uploaded it first and an automatic take down notification was sent to the video without any warning.
Scripps Local News isn't really the one at fault here, they might be partly at fault because their ContentID preferences are setup to automatically take down videos. The bigger culprit here is YouTube, their ContentID system is faulted in many ways in that you can give correct attribution to a video if it's free for playback like NASA's content. And because you can associate which content is owned by who, the lucky person who uploaded it first and happens to be a YouTube partner will get all the glory because everyone else will be taken down.
Unfortunately this isn't the first incident either with Scripps Local News, if you take a look through more of NASA's YouTube videos you'll also find out that this mysterious company has taken down multiple videos from them as well. This YouTube fault is huge and it isn't just effecting the big guys like NASA but the smaller guys like us here at LogicLounge, we've had our share of false copyright claims against our original video.
As of right now the video is still taken down by Scripps Local News and should be back up shortly with such huge event like this and high-profile YouTube uploader a person will be on it quickly and get the video back up. We've embedded the video below for your pleasure when it does come back up you can use the embed below to watch it.