Skype Begins In-App Advertising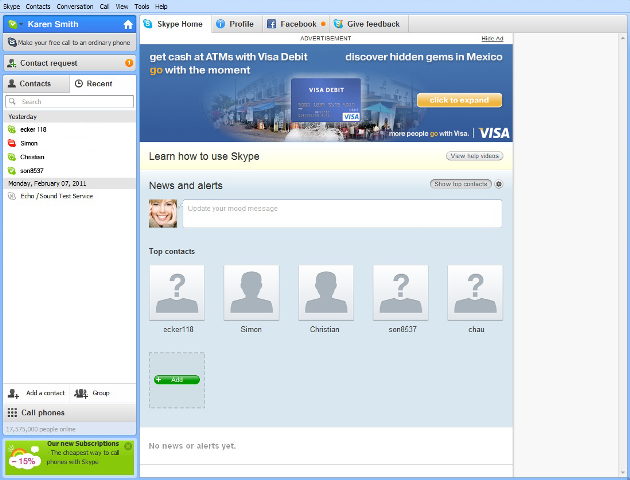 In a release from Skype today, the launch of advertising in Skype has not begun. Ads will now appear in the Home tab of Skype starting later this week.
Skype started this project a little while back and some users, including me, saw test ads for a company called Rdio. In their press release Skype explains that this is going to be an experimental platform and that even though they've tested the platform before rolling it out to everyone they will still be learning about how to make a good balance between their needs and the customers.
Skype also gave us some more information around the advertising program:
We're working with some great advertisers, including Groupon, Universal Pictures, and Visa.
Ads will appear in the US, UK and Germany and advertising sales for Skype are initially focused in those markets.
You may only see ads occasionally. Our initial plan is to show an ad from one brand per day in each of the markets where advertising is being sold.
The ads will appear in the Home tab in Skype for Windows, and we may experiment with ads in other areas as well.
The ads won't interrupt your Skype experience. You won't suddenly see annoying pop-up ads or flashy banner ads in middle of conversations.
We may use non-personally identifiable demographic data (e.g. location, gender and age) to target ads, which helps ensure that you see relevant ads. For example, if you're in the US, we don't want to show you ads for a product that is only available in the UK.
You can opt out of allowing Skype to share this non-personally identifiable demographic data with advertisers from the Privacy tab in Tools â–¸ Options.
While the advertisements won't be THAT bothersome I can't help but wonder what this might mean for the future of Skype. Currently if you want to have group video calls you have to subscribe to a plan. Among other paid features and the increasing popularity of VOiP systems Skype might be looking into limiting the free users more.
The possibilities of adding advertising to the VOiP app are endless, a couple I can pull off the top of my head include limiting users to a group call of 3-5 before having to get a paid account or at the start of every call having to sit through a 30-second video/audio ad.
Those little things might not seem all that troublesome now but just wait, like almost every other company and person who is looking to make more money on the internet I won't be surprised if we start to see pop-up ads within the Skype app itself.