YouTube Purchases Next New Networks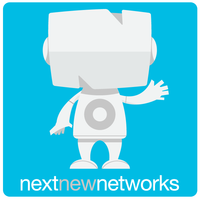 For a long time YouTube has had a partner program that lets users make money off their videos and lets YouTube take a cut of it as well. YouTube Partner Program is a big hit with users of YouTube users. Even the average YouTube users is aware of the YouTube channel called Next New Networks, which runs 25 other YouTube channels and helps promote and grow them.
In a statement from YouTube today confirms that Next New Networks has been acquired by YouTube. This company founded back in 2008 focuses on producing high quality original video content for the web. Ironically, in light of todays announcement YouTube has unveiled 'YouTube Next', which is made up of experts from Next News Networks no doubt. YouTube Next is a program that sets out to help accelerate partner growth and help users increase revenue. YouTube plans to make this new team available to certain partners to hopefully help them produce better quality content.
From the release:
In fact, the number of partners making over $1,000 a month is up 300% since the beginning of 2010 and we now have hundreds of partners making six figures a year. But frankly, "hundreds" making a living on YouTube isn't enough and in 2011 we know we can and should do more to help our partners grow.
What I am failing to understand is the way YouTube is going to make this more accessible to more than "hundreds" of partners. It may look good in the explanation from YouTube, but the specifics have not been released as of yet.
With the launch last year of Partner Grants Program which allows up and coming content creators receive an advance on their future ad revenue so they can invest more in making better quality YouTube videos. And giving a $1,000 credit to the top 500 partners last year to buy new equipment, it seems that YouTube is trying to focus this around the money.
This is a change for YouTube who has always centered their partners around what they make, not what they do to make it. YouTube will now have experts ready to help the struggling users who make great YouTube videos. The contacted partners will receive a special team to help offer tips and useful tricks for the YouTube platform. The free training though will only be available to select partners.
YouTube has been in the dark with most of the terms of the acquisition and most of the finer details have either not been worked out or finalized. This YouTube Next brand will certainly help pump up some users on YouTube and could potentially others.