Steve Jobs To Take Medical Leave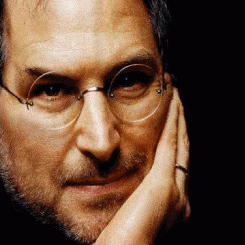 Apple CEO Steve Jobs announced today that he will be taking a medical leave of absence because of concerns with his health. In an open letter to the company and the public Steve Jobs wrote that the Apple board of directors granted him to take a medical leave, as of now we don't know what health issue is causing him to leave.
Despite his looks, Steve Jobs is a 55-year-old man who has been forced to leave the company many other times in the past. Steve jobs is a survivor of pancreatic cancer, which caused his leave in 2004 and in the first half of 2009 where he received a liver transplant.
In the letter Steve Jobs wrote that he will continue to act as the CEO of apple and "be involved in major strategic decisions for the company." He continued on to say how much he loves his company and he and his family would "deeply appreciate respect for our privacy."
In his absence, CEO Tim Cook will step up to run the company. Tim Cook is not new to running the company and took over the roll in early 2009 when Steve Jobs left to get a liver transplant.
In 2004 Steve Jobs was diagnosed with a rare type of pancreatic cancer called islet cell neuroendocrine tumor, which is cured if surgery removed it quickly. In 2008 Steve Jobs showed a massive amount of weight loss and many concerned with his health. Then in early 2009, Steve Jobs released a statement that blamed a hormone imbalance for his weight loss, but a week later he left on medical leave for a more complex condition.
Steve Jobs is the life blood of Apple, when he released his statement today stock markets overseas dropped with worry of Steve Jobs' medical issues. In Frankfurt, Germany today trading was down 7.3% in relation to his statement earlier today.
Apple reports quarterly earnings on Tuesday and Steve Jobs was expected to announce with News Corp. a new digital publication for the iPad this week, but due to the impending illness the event was postponed last week.
Steve Jobs does stir a lot of controversy and worry over his minimal disclosure of his leave of absence. His very short six-sentence letter leave more than enough to imagine and that was half the problem in 2009 when Steve Jobs took his second leave of absence. It makes high investors worried about the future of the company and Steve Jobs' health. Many of Apple's top investors are raising questions over his leave of absence and want some type of explanation over his absence. Many believe that their right to know trumps Steve Jobs' preference for privacy.
Whatever condition Steve Jobs may have we would like to wish him the best to get better and recover quickly.