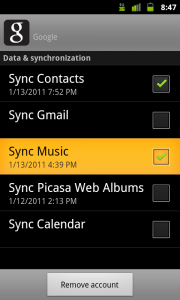 For more than six months rumors around an Android music service has built. Today some leaked screenshots confirm what could be this very music service everyone has talked about. Predicted for the next version of Android OS the music service is something to go head-to-head with iTunes and Amazon.
The website GizmoFusion first leaked these images today of the proposed Gingerbread release. The image released shows a data and synchronization button for music in the settings tab. For the Android users among us, we know that the music option is new.
Google has been reportedly been working on a cloud-based music service, either by subscription or pay-as-you-go. The Android platform has become so immense that having integration at the device level with Android could help Google gain the upper hand on other music services.
Even if music synchronization is not a pointer to an integrated music server, being able to sync over the air is still a very useful feature. Back in May at the Google I/O conference, Google showed off some technology to allow users to stream music from their computer directly to their Android-powered device. This could be a feature Google could use to double as a way to sync playlists and music between computer and device.
Allowing transfers to take place over the air will take great stress off of Android users, so instead of using an app or manually managing your music everything is done wirelessly over the air.