Temple Run for iPhone [REVIEW]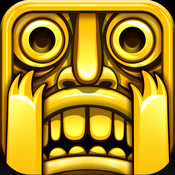 This weeks App of the Week is possibly one of the most addicting games that I've run into. It's a super simple game that can be player with one finger and a little bit of tilting.
Temple Run is a simple game in which you are running from these mutant monkey like creatures and trying to collect as many coins and power-ups as you can without running into any obstacles. There are gaps to jump over, fire to slide under, broken off pieces of temple and much more to avoid while trying to get as far as you can.
The coins that you end up getting can go into upgrades to make the power-ups last longer and be more worth it for you once you get them. This 3D game play app will keep you going for hours as you try to level up and not make the mistakes that you made before.