Smartphone Sales Beat Computer Sales For The First Time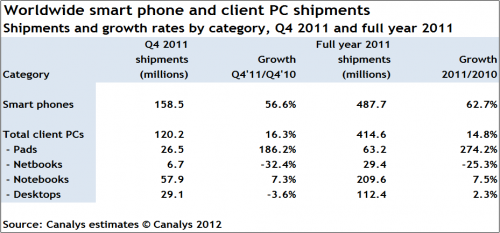 In 2011, the times have changed in what products we buy. For the first time ever, the total PC sales around the world was in second place in the amount of sales. According to a data released on Friday by a market analyst firm, Canalsys; in 2011, the smartphone sales has sold 73 million more devices than the PC market (which includes computer, laptop, netbook, and pads) with an output of 488 million devices sold, while the PC market has only 415 million devices sold.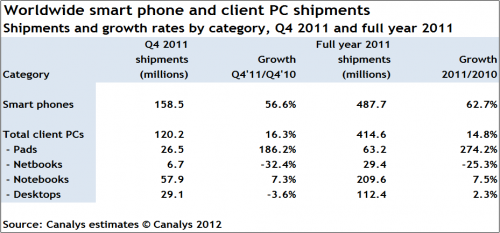 Based on Canalsys's data, the total shipments grew 63% during the 2011 market year. One of the notable reason for the boost in sales is Apple's smartphone devices like the iPhone 3GS, iPhone 4 and the 4S. Apple also has surpassed Nokia, with their Symbian devices (which is the popular mobile operating system globally), in the total number of sales nationally. In 20211, Android was shipped in 237.8 million devices (a 144.1% growth), iOS was shipped in 93.1 million devices (a 96% growth), Symbian was shipped in 80.1 million devices (a 29.1% decline), blackberry was shipped in 51.4 million devices (a slight 5% growth), and Windows Phone 7 was shipped in 6.8 million devices (a 43.3% decline).
The market analysis firm, Canalsys has said in this changed market
"In 2011 we saw a fall in demand for netbooks, and slowing demand for notebooks and desktops as a direct result of rising interest in pads," said Chris Jones, Canalys VP and Principal Analyst. "But pads have had negligible impact on smart phone volumes and markets across the globe have seen persistent and substantial growth through 2011. Smart phone shipments overtaking those of client PCs should be seen as a significant milestone. In the space of a few years, smart phones have grown from being a niche product segment at the high-end of the mobile phone market to becoming a truly mass-market proposition. The greater availability of smart phones at lower price points has helped tremendously, but there has been a driving trend of increasing consumer appetite for Internet browsing, content consumption and engaging with apps and services on mobile devices."
Although the smartphone sales are on the rise, this does not mean the computers are going away soon. Computers are still in high demand. We can guess that smashed phones are a reason for the high demand for phones.
Canalsys has more data on their site.