Twitter Introduces Automated URL Shortening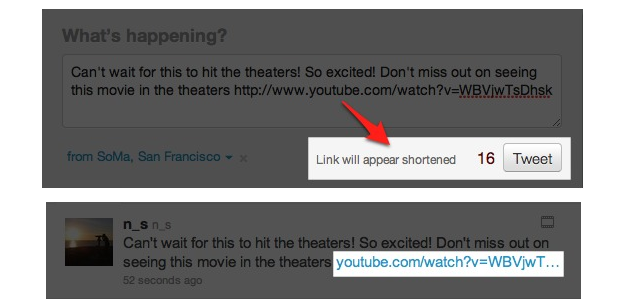 Twitter has been hard at work making your Twitter experience more pleasurable. This all started with the new redesign of the Twitter interface. Users kept wanting more and more new feature, one such included a URL shortening service. After some time Twitter acquired that domain t.co that was used with the Twitter Tweet button to shorten links. Now Twitter has opened it up for all to use.
It works simply, pasting a link of any length into the Tweet box on Twitter.com will automatically shorten the given link after you've composed your Tweet. Once you hit the "Tweet" button Twitter will take over and will shorten the link for you in the same format as you are used to. The t.co service will take up only 19 characters of your tweet so it conserves space.
Twitter is solving a problem that came when Twitter started, but this isn't new because services like http://ou.gd and http://bit.ly have already solved this problem and has a leg up over Twitter because they also include analytics on links, while Twitter does not. The one up side of Twitter's shortener is people know where the link is pointing to because it. Twitter's service also increases security, when a user clicks on a link that is reported as malicious, Twitter will direct them to a page that warns the user.
Sadly, like I stated before, Twitter won't include any analytics for links so users will have to use a third-part service like ou.gd to get stats for links.
So how does it work?
Start typing or paste a long URL into the Tweet box.

After you've entered the first 13 characters of a URL, a message will appear at the bottom of the Tweet box, letting you know that the link will appear shortened. (Fig. 1)

Notice that even if you've reached the character limit, you can continue to add text to the URL with no consequence.

Once the Tweet is posted, it will be assigned a t.co link ID, but the link will appear as a shortened version of the original URL, so people who see your Tweet will know the site they are going to (Fig. 2, above).

Yep! It's now that easy.
View more on Twitter's FAQ.