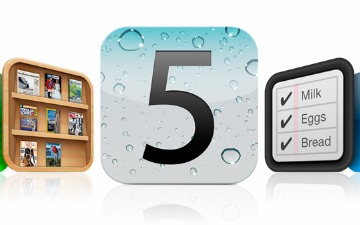 At the WWDC keynote this morning Apple announced the next version of their mobile operating system, iOS 5. This anticipated major release to Apple's operating system for the iPhone, iPod touch and iPad features almost all the features we've been hearing about. The major features of iOS 5 includes a completely redesigned notification system, over-the-air updates and activation, and iTunes library syncing over Wi-Fi.
iOS 5 has some great new features, such as Notification Center, iMessage and Newsstand and we can't wait to see what our developers do with its 1,500 new APIs," said Steve Jobs, Apples CEO. "Perhaps iOS 5's paramount feature is that it's built to seamlessly work with iCloud in the Post PC revolution that Apple is leading.
Here is an over view of the features as announced at the keynote today:
Notifications will see a major overhaul. The new Notification Center in iOS 5 will aggregate all notifications, accessed by swiping down from the status bar at the top of the screen. New notifications will appear at the top of the screen and will be less obtrusive overall. Notifications will also be displayed on the lock screen along with weather and stock alerts. Tapping on a notification will automatically open the related app.
iOS 5 will be "PC free" allowing new device activation and iOS updates over the air. Also, iTunes library syncing will be possible wirelessly via Wi-Fi. While an iOS device is being charged, it will automatically find the associated iTunes library and sync automatically.
AirPlay Mirroring will also be possible to wirelessly mirror an iPad's display to a television connected to an AppleTV.
Twitter will be integrated into iOS and several apps including Camera, Photos, Maps, and Safari. Contacts can also be updated automatically with Twitter handles.
Apple introduced a new unified messaging service between iOS users called iMessage. iMessage will allow iOS users to send text and multimedia messages over Wi-Fi and 3G with read and delivery receipts and real-time typing indication. Messages will be pushed to all iOS devices a user owns.
Game Center will be enhanced with profile avatars, friend recommendations, and the ability to purchase new games within Game Center.
Mobile Safari will also get several new features including tabbed browsing and a Safari Reader feature where users can save articles for later reading in the Reading List, which will be synced across multiple iOS devices for easy access.
A new Reminders app will offer task tracking in iOS 5 with geolocation capabilities to trigger reminders based on user location.
 Camera will get a shortcut from the lock screen for quicker access. New features include optional grid lines for better framing and on-device editing like cropping and rotating plus red-eye reduction. The volume up button can also be set to trigger the shutter.
 Mail will also see some signification changes including rich text formatting, message flagging, draggable addresses.
Other new system-wide features include a dictionary that can be accessed by any app and keyboard enhancements to modify the on-screen keyboard.
A new app called News Stand is also coming to the App Store with iOS 5. It will be a counterpart toiBooks featuring newspapers and magazines and will download new issues automatically in the background.
iOS 5 will be available in the fall and will support the iPhone 3GS, iPhone 4, 3rd- and 4th-generation iPod touch, and iPad and iPad 2. Developers will be able to access a seed today.