YouTube Releases New YouTube Music Site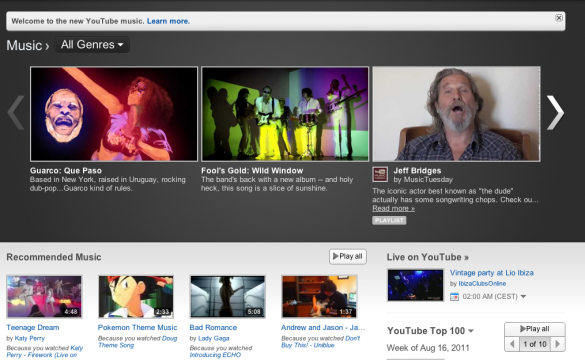 YouTube released a new section on their website today, YouTube Music. An all new place to watch and listen to your favorite music selections. YouTube is promoting new daily, hand-picked music playlists to fit everyone's musical needs.
They not only have the newest and most popular music selections but older music and interviews of artists. YouTube is marketing this new area of the site as your "daily destination for hand-picked playlists, recommendations, local concerts and the YouTube Top 100 chart." From the first impressions it looks amazing and will suit anyones music tastes.
This new section of YouTube takes into account your music listing on the video sharing site and recommends music that is similar to your taste. Bringing you not only music, but YouTube will bring you concerts of many artists, we suspect that they will be both live concerts and pre-recorded ones.
Watching a preview video, it looks like the first concert to hit the new YouTube Music will be Far East Movement and Lil Wayne. Along with all of your favorite music, YouTube Music will bring you the top 100 chart of todays hottest hits.
YouTube is seriously bringing on the heat to a multitude of music streaming services including Pandora, Spotify and Grooveshark. We'll have to see what YouTube has in store for this channel, the video below is a preview of what is to come with the new channel and it looks very promising to the online music listeners out there. Right now though, on YouTube's preview video the current like/dislike ration is 110 to 401, so the future looks a bit cloudy for the services future.
You can check it out right now at http://youtube.com/music