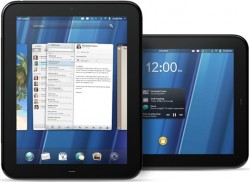 Hewlett-Packard confirmed today that it will be killing its mobile enterprise of WebOS. This shocking announcement today from HP stated that the company is going to "discontinue operations for webOS devices." This not only means phones but also tablets that HP produces. The most surprising part about this is that just recently the company released its HP TouchPad.
HP is an amazing computer manufacture and has done well in that market. But, the company has had limited success in the mobile market. They hoped to get a better foothold with the purchase of Palm back in April 2010 for $1.2 billion.
The press release from the Q3 2011 financial results gave us the grim future of the mobile market of HP:
HP reported that it plans to announce that it will discontinue operations for webOS devices, specifically the TouchPad and webOS phones. HP will continue to explore options to optimize the value of webOS software going forward.
It is sad to see WebOS go, its latest release of the HP TouchPad was seen by many as a true competitor to the highly popular Apple iPad. Unfortunately the outlook was set too high and Best Buy found themselves in a pile of unsold HP TouchPads that they couldn't sell.
Even the recent price drops of the HP TouchPad by $100 wasn't enough to save the failing tablet. Rumors about say that HP will totally kill off the WebOS line within the next 45 days but that cannot be confirmed. It might be worth it tough to go out and purchase an HP TouchPad just for the value of having the last WebOS device.
Now we see ourselves looking for the next iPad competitor, but nothing as of yet has come close to the Apple iPad.