YouTube Updates Upload Tool with More Features
Slowly YouTube is updating their framework and their tools not only on the front end, but the back end too. Yesterday night while uploading a video, I found that the upload tool on YouTube looked very different and provided more features in the way of tagging videos and choosing how the subscribers get notified.
In a long list of new features announced by YouTube, creators now have the ability to upload custom thumbnails right after the upload begins, instead of after its been processed, and there's also a new tag editor that assists with tagging videos.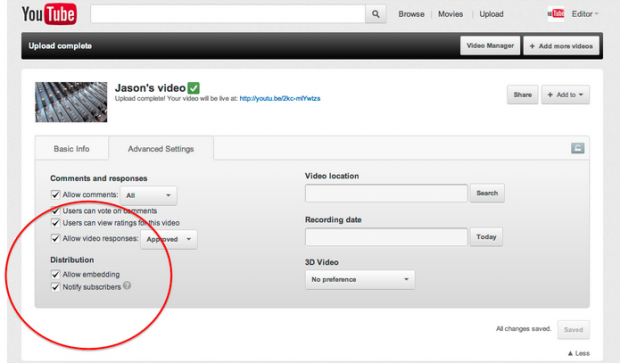 As stated in the YouTube Creator Blog:
Many of you have told us you want more control and convenience when publishing videos to your YouTube channel. You want features that will save you time and give you more flexibility as you build an audience on your channel. Starting today all creators around the world will have three new publishing features: public videos that don't notify subscribers, adding custom thumbnails while the video uploads, and a new tags editor.
As someone who uploads videos on a regular basis and likes to have efficacy when uploading videos, thumbnails right after upload and the tag editor really help speed up time when I have custom thumbnails and a long list of tags I want the video to have.
Another nice feature to have for those who may produce a constant stream of videos and don't want to alert subscribers to your new video. This feature is great for videos that don't want to alert their subscribers to their new video, for some reason. Even though you choose to not notify subscribers, the videos will still show up in search and on your channel.
If you are one of the rare people who use the batch uploader for YouTube, there's now added XML capabilities for tags when using the CMS for batch uploading.
YouTube is constantly looking to improve their framework and is always taking suggestions and trying to improve for their users.