Apple iPad Event Recap


Apple just wrapped up their keynote down in San Francisco today. The event took place to reveal the brand new Apple TV and next-gen iPad.
The new Apple TV will include a brand new interface with icons much like iOS.  The updated device will have and A5 CPU and  access to Photo Stream on top of previous services like Netflix, Flickr and YouTube. The new platform will also allow third-party applications and can output video at 1080p. The Apple TV will arrive on March 16 at a price tag of $99.
The new iPad features an incredible 2056×1536 display powered by the new A5X quad-core processor with quad-core graphics. Games that were demoed at the event looked stunning with the new GPU. The apart from the display, the camera in the iPad was upgraded from 0.7MP to 5MP and has 5 elements. The new camera is also capable of recording video in 1080p. Siri has made an appearance on the iPad this year, however it will only feature voice dictation for the time being. Apple has also improved the cellular network capabilities by including a 4G LTE modem in the device capable of speeds up to 72MB/s. Even with these remarkable upgrades, Apple has managed to keep the battery life at a solid 10 hours and 9 hours while using the 4G network. The new iPad will be priced at
$499/16GB – $599/32GB – $699/64GB
$$629/16GB – $729/32GB – $829/64GB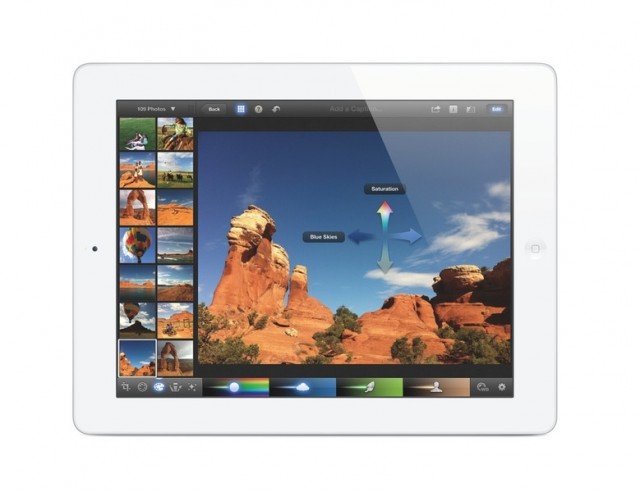 GarageBand was also updated to include retina display support, "Smart Strings", iCloud sharing, a note editor, and "Jam Session." Jam Session will allow up to 4 iOS devices to connect over WiFi or bluetooth and create music in real-time. The update is free to existing users and $4.99 for new ones.
Apple also announced iPhoto for iPad and iPhone, a multitouch filled photo editor capable of retouching and adding effects to photos up to 19MP. Images can be shared via iCloud, Twitter, and Facebook in photo books much like Flipboard's layout. The universal app costs $4.99 and is available in the App Store today.
Let us know in the comments section below if you will be purchasing any of the devices announced today.