Apple iPod Touch 4G [Review]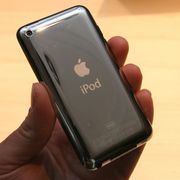 Just a couple months ago Steve Jobs took the stage to revel the newest iPod line up. With some major updates to the iPod Nano the iPod Touch was totally revamped. Now coming with not one but two cameras and totally new guts in this very slim device.
I have been fortunate enough to get my hands on the 32GB version of this amazing new device. Since the release of the iPhone you were unable to compare the iPod Touch to the iPhone because of the lack of camera and the internal guts of the device were so different from any iPhone.
The new iPod touch features the same A4 chip which powers the iPhone 4, 24-bit color LED retina display, 3-axis gyro, front camera for Facetime and rear facing camera for HD video recording.
Before purchasing this new 4th generation model I did my research and all I could find on the web is positive after positive comment praising it as being a true little brother to the iPhone 4. Although it is similar to the iPhone 4 a critical feature is missing that makes the iPhone 4 a little better when taking pictures and that is a LED on the back for illuminating your subject perfectly and after having used it for two weeks I've been frustrated when I want to take pictures in low light with my pictures looking grainy.
Overall though I found the iPod Touch a very nice upgrade from the old 3rd generation model with some major leaps taken by Apple to improve this very popular device. I've enjoyed the front facing camera and retina the most, being able to take HD video for my YouTube channel and when watching content on my iPod it is bounds better than what the old devices had.