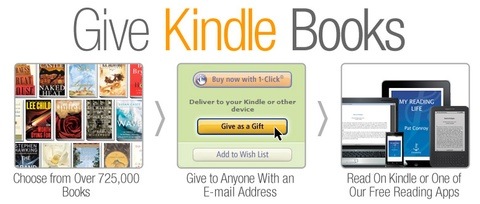 Today in a release from Amazon, customers can give the gift of a Kindle E-Book to anyone with an e-mail address. Amazon is making this announcement just days away from one of the biggest shopping days of the year, Black Friday.
Russ Grandinetti the vice president of the kindle says:
We're making this functionality available in time for the holidays to offer an easy, stress free holiday shopping option for anyone — not just Kindle owners.
Totaling to over 750,000 books, giving the gift of a Kindle E-Book will be one of the easier gifts to give out this year. Don't fret if your friend has a Kindle reader or not, there are free applications for all the major platforms including Mac, PC, iOS, BlackBerry and Android mobile phones.
With the current economy E-Book sales are on the rise, outselling hardcover books and being supported on multiple platforms lets readers carry that digital edition in their pocket. Buying for your friend or family member just got easier because you don't have to worry about them having a Kindle.