Apple Retail Stores Starts Price Matching Major Retailers And Carriers For iPhones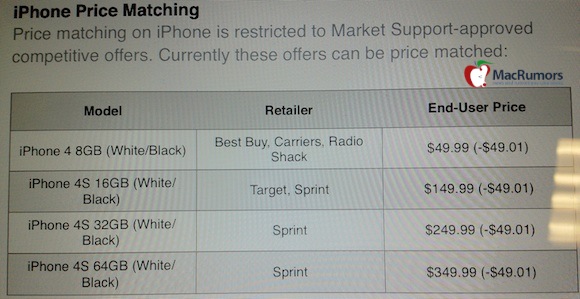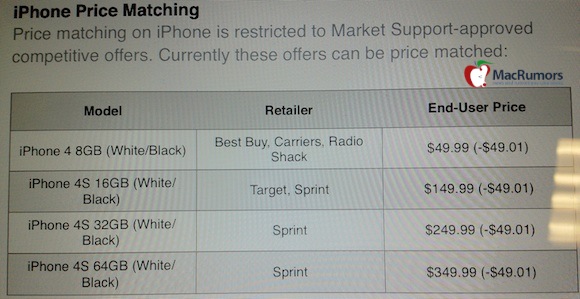 While Apple Stores are a great place for purchasing an iPhone, it is not always the best place to get a discount on one. There are retailers like Best Buy, Radio Shack and Target or carriers like AT&T, Sprint and Verizon who sometime offer a better deal on an iPhone. That is about to change.
According to a leaked screen capture over on MacRumors, Apple retail stores are now given the ability to price match iPhones from "Market Support-approved competitive offers.". On the screen capture, retailers like Best Buy, Radio Shack and Target and carriers like Sprint are specifically mentioned, although retailers like Amazon and Wal-Mart aren't mentioned (although you can try, it is unknown if Apple will take it, so consider as "Your Mileage May Vary [YMMV]"). Based on the screen capture, the savings are $49.01 for all iPhone 4S and the 8GB iPhone 4 model.
As of right now, Apple is only discounting the iPhone 4S line and none of the third generation iPad lines, or any Macs. It may be a ploy to get customers to purchase/upgrade their iPhone to the iPhone 4S, pending information about a new iPhone coming out in the next month or two.
Though there will be discounts on the iPhone, there is likely terms of service for the discount. Apple will only accept approved retailers, probably all of the Apple's approved re-sellers, so no third-party sellers. Most likely, the retailer offering the iPhone 4S or 8GB iPhone 4 at the discounted price must be near an Apple store. Also, they will likely to request some proof of the price for the iPhone 4s.
With the next iPhone rumored to come in the next month or two, it is best to step back for a bit and not plunge in to a new iPhone right now.