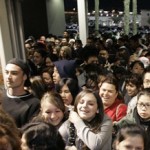 Well, it looks like that time of the year again. The day after Thanksgiving where many prices of products drop to as much as 70% of their original price. Here are a list of many brick and mortar tech stores that has black friday ads.
Best Buy http://bestbuy.shoplocal.com/bestbuy/default.aspx?action=entryflash&
Office Depot http://officedepot.shoplocal.com
Office Max http://officemax.shoplocal.com/officemax?cm_re=rightrail-_-slot2-_-weekly%20ad
Staples http://weeklyad.staples.com/staples/default.aspx?action=entryflash&mode=flash&sneakpeek=y&adref=SBD_Marketing
Target http://weeklyad.target.com/target/default.aspx?action=entryflash&ref=sc_iw_l_0_1
Wal-Mart http://www.walmart.com/ and type in your zip code
Sears http://slickdeals.net/blackfriday/deal/searscom/599 (Source: Slickdeals)
Costco http://slickdeals.net/blackfriday/deal/costco-wholesale/1254 (Source: Slickdeals)
KMart http://kmart.shoplocal.com/kmart/default.aspx
Gamestop http://www.blackfriday.info/sales/gamestop-black-friday-ad.html (Source:blackfriday.info)
Amazon http://www.amazon.com/b/?node=384082011 Right Now
Tiger Direct http://www.tigerdirect.com/email/WEM2494b.asp?cm_re=Homepage-_-Spot%2001-_-CatId_WEM2494_thanksgiving Right Now
Buy.com http://www.buy.com/loc/holiday-superstore/16125.html Right Now
Disclaimer: This site does not house the ads on our servers and are not responsible for some ads not being correct or not responsible for the ads.
Here are also some tips when planning and shopping on Black Friday
Look online at the ads for some info on the items…
Get the local Thanksgiving newspaper for referencing.
Some 

stores

may have the item online at the same price. (example: Officemax)
Plan on which stores are your top priority to get (for example: Doorbusters, limited quantity, etc.)
Go to a city with fewer population for a better chance to get the item you want and have shorter line
Hopefully these tips will help you on your shopping on Black Friday.