Bower VM72 Pro Compact Monopod Review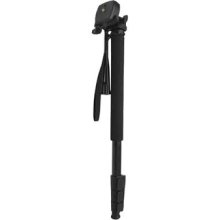 Finding a good, lightweight monopod that does more than just keep your camera off the ground can be tricky. Often, the rule is that unless you feel you are paying too much, you're probably setting for a monopod that just isn't good enough to get the job done.
Bower is a fairly well-known name in the world of photography accessories. I've seen more than a few tripods and monopods branded with the Bower logo over the past few years, and I was surprised to see them at my local Fry's priced lower than even the cheapest tripods. For around $20, I walked out of the store with a 72-inch aluminum monopod.
When I got it home, I noticed a few things were out-of-place on the box. It wasn't long before I realized that either the VM72 is a discontinued member of the Bower family, or what I purchased was in-fact a cheap knockoff that claimed to be the product of Bower. Either way, I'm happy to share my experience with you.
Packaging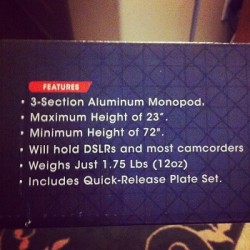 How many typos can you fit on a box? When it comes to the VM72, the answer will surprise you. I found no less than four typos in a single feature list displayed prominently on the packaging. Some of these typos look pretty innocent, such as super quotes mixed with regular quotation marks, but others are a bit more concerning.
For example, the packaging states that the maximum height is 23 inches. The minimum height is listed at 72 inches, a remarkable mathematical impossibility. This is just two lines above a bullet point that states the unit weighs 1.75 lbs and translates that to 12 ounces. Unfortunately for Bower, there are 28 ounces in 1.75 pounds.
Needless to say, having so many typos on the box raises a few red flags about the product. Add to that the fact that you can't even find VM72 as a product model number on the Bower site.
Construction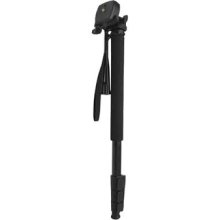 Getting to the monopod itself, the construction is surprisingly good for a monopod that extends 72 inches and costs less than $20. The aluminum frame looks as though it can take the pressure of a few road trips, though I don't trust the plastic mounting components nearly as much.
The mounting plate, adjustment screws, and hinges are made almost entirely of a cheap plastic that doesn't appear as though it would last more than a few family outings. On a professional shoot, this would be the last monopod I'd trust, especially with any camera that weighs more than a point-and-shoot.
The pan arm is a nice touch, and you can rest the camera at a 90-degree angle. You have roughly 180 degrees of vertical tilt available to you before you have to manually tilt the monopod itself. Tightening or loosening the adjustment arm frightens me as I can hear the plastic creak under the pressure. I wouldn't expect it to last very long before the whole thing comes apart and sends your camera crashing down to the floor below.
Price
You can find this monopod at Fry's Electronics and Wal-Mart. I haven't found it on Amazon, which could be a good thing for Amazon's customers. As much as I don't trust this monopod, I do have to complement it for having a relatively good value for such a low price. It's rare you'll find a tall monopod for anywhere near $20, and for folks that just want something to keep in the closet for the rare occasion where they're taking the camera out for a quick shoot will probably never see a problem with this product.
In fact, I'd almost call it a great deal if it wasn't for the fact that Bower went cheap on the attachment hardware. Quick-release latches allow you to extend and fold the monopod in seconds, and that's a useful thing when you're out in the field and need something fast.