Corsair Vengeance 1500 Gaming Headset [REVIEW]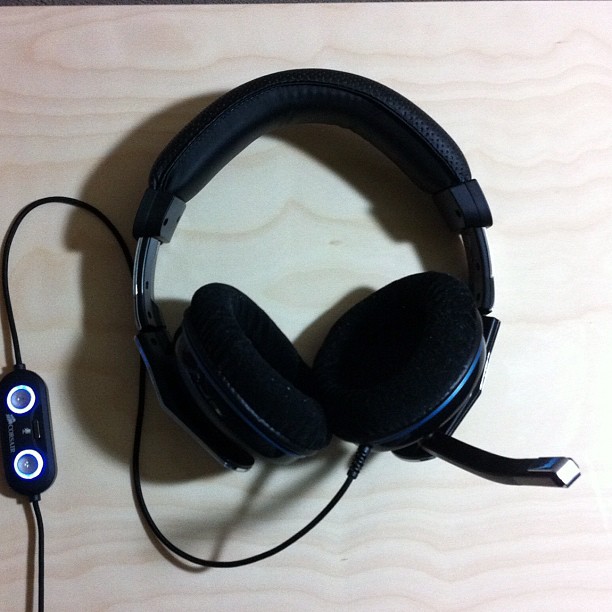 Gaming headsets are commonly seen as these big, bulky headsets that make you look more like princess Laia and less like what you might expect to see in a professional gamer. This is certainly the case with the Corsair Vengeance 1500, a headset which certainly doesn't skimp on the extra bulky bits and pieces, but provides sound options ranging from traditional stereo audio to Dolby Pro Logic IIx 5.1 surround sound all the way to a virtual 7.1 speaker shifter.
When I first received the Corsair Vengeance 1500 as a recommendation from a friend, I was surprised to hear the name of what I perceived to be a RAM manufacturer. I wasn't aware of exactly how wide Corsair's hardware range extended, especially over the past several years. After hearing such a glowing review of the product, I decided to seek it out.
Fry's Electronics in Austin is a geek's paradise. It's undoubtedly the largest electronics store in the tech-friendly city, and its selection of headsets is quite extensive. To my surprise, this headset in particular was in high demand among consumers. In fact, it was the only headset on the wall that had sold out. I managed, with the help of another customer, to locate a hidden stockpile on the top of a nearby isle.
Headset secured, it came time to test this bad boy and see what it can do for my gaming. Here are the results of that test.
Comfort and Design
Even with the Vengeance 1500 extended, the giant set felt as if it were a giant clamp bearing down on my head for the first hour or two. Frankly, it was quite snug. I do have a big head, so this is a common problem with larger gaming headsets. Thankfully, this snug feeling relented after a while as the material inside the headband adjusted.
The Corsair Vengeance 1500 is an over-the-ear headset solution, and unlike many gaming headsets out there, the cups fit over my large ears perfectly. The microphone, a rubbery but not entirely flexible piece, sat in good position to avoid breathing and other potential problems from impacting overall audio quality.
What I can appreciate about it is the solid construction. Large plastic plates (made up to look like metal) make up the bulk of the frame, a relief from the common brittle plastic construction so many headsets rely on. I feel as though I could fight a war with this headset on and come out the other end without issue.
I'm thankful Corsair thought to forgo the common pleather ear padding for a less sweat-inducing cloth design. It's soft and breathable without letting too much sound in or out. The open cell foam used to make up the bulk of the padding should not be submersed in water, leaving tape and light dabs with a damp cloth as the primary cleaning options.
The volume and microphone control built into the cord is big and easy to see. Muting the microphone turns two large circular LEDs from blue to red, giving you a clear indication that you're muted. The rubberized texture is a nice touch, adding to the overall quality of the build. Inlaid plus and minus signs on the large, rounded buttons makes it easy to determine which button you're about to press without taking your eyes off the action.
The cord itself is wrapped in a tangle-free weave similar to that of the Logitech G5 mouse and many other gaming-specific input devices. This is a very good thing, because nothing will throw your game off more than hitting a snag or finding your cord tied into a knot when you need to sit back for a moment.
Sound Quality
Corsair has put a lot of thought into the Vengeance 1500, giving you USB audio and a set of custom drivers that allow you to switch between stereo, Dolby 5.1, and a virtual 7.1 speaker environment that mimics everything from a small studio to a grand hall. You can even control the volume in which your microphone feeds back into your headset, relieving you of that muffled separation or delay many other headsets leave you with when speaking.
An equalizer gives you the ability to fine-tune the audio for the headset without corrupting the audio properties of other speakers or headsets you may have plugged into your computer. I found both the FPS and Music + Bass presets to be particularly enjoyable, though you are able to create custom sound profiles should you see fit.
The overall audio quality was very good. A set of 50mm drivers give the audio plenty of realistic punch without blowing out your eardrums to do so.
Price
The Corsair Vengeance 1500 retails for about $100 and can be found for less, depending on where you go. I was surprised to find it for around $60 at Fry's, while still remaining at suggested retail on some of the larger online electronics stores out there. On average, I was able to find this set at $90 when scouting online.
This is a remarkably good price given the average going rate for a gaming headset with similar features retailing for roughly $130 on average, including the somewhat disappointing World of Warcraft gaming series sets sold practically everywhere.
Final Thoughts
The Corsair Vengeance 1500 is a headset you should definitely pick up if you're considering getting a good surround sound solution and don't care about all the extra buttons and features found on slightly more expensive options. Corsair designed it for performance, and some definite attention to detail was spent by the Corsair team to build something that sounds great and has the durability to withstand the rigors of daily use.