Facebook Goes Public on NASDAQ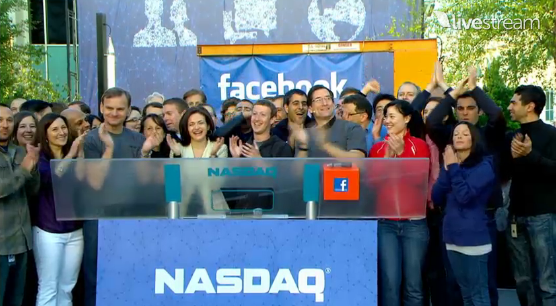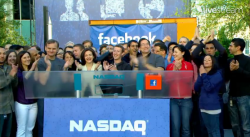 The wait is finally over. As of Friday, May 18, 2012 at 9:30 AM EST (6:30 AM PST where its headquarters is located) , Facebook is the finally public on NASDAQ. Instead of having the party in New York City, like most other company did, it held its event back on Facebook's headquarters in Menlo Park, California with all of its employers, just hours after their "Hackathon" event. Minutes before the official 9:30 AM EST (6:30 AM PST) opening of the market, Facebook employers got together in the main headquarters "Hacker Square" to officially ring the bell through a remote system and celebrate the event.
At the same time Facebook opened trading in the stock market, Mark Zuckerberg posted an update to his Facebook "Mark Zuckerberg has listed a company on NASDAQ – FB". This was due to a few Facebook employees, with permission from the NSADAQ commission, to hack the digital touchscreen opening bell to post the message on his Facebook time-line. The employers used a system that plugged into a mobile phone using the headphone jack and as soon Mark pressed the button, it sent a signal to the phone and triggered their Open Graph API to post on his Facebook time-line.
Facebook opened with 421,233,615 shares of its common stock at a price to the public of $38 per share. Within a minute after the market finally opened, Mark Zuckerberg wrote a memo to the people in times square using the NASDAQ outdoor display system, "to a more open and connected world." followed by a press release soon after….
MENLO PARK, Calif., May 17, 2012 /PRNewswire/ – Facebook (NASDAQ: FB) today announced the pricing of its initial public offering of 421,233,615 shares of its common stock at a price to the public of $38 per share. The shares are expected to begin trading on the NASDAQ Global Select Market on May 18, 2012, under the symbol "FB." Facebook is offering 180,000,000 shares of Class A common stock and selling stockholders are offering 241,233,615 shares of Class A common stock. Closing of the offering is expected to occur on May 22, 2012, subject to customary closing conditions.

In addition, Facebook and the selling stockholders have granted the underwriters a 30-day option to purchase up to 63,185,042 additional shares of Class A common stock to cover over-allotments, if any.

Morgan Stanley, J.P. Morgan, Goldman, Sachs & Co., BofA Merrill Lynch, Barclays, Allen & Company LLC, Citigroup, Credit Suisse and Deutsche Bank Securities are serving as book runners for the offering. RBC Capital Markets and Wells Fargo Securities are serving as active co-managers.
As of the end of the day, Facebook cost $38-45 per share