Facebook Launches Dedicated Messaging App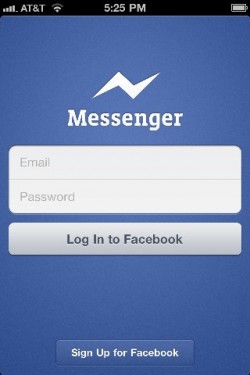 The largest social media company today has unveiled a dedicated messenger app for iPhone and Android named Facebook Messenger. It's built upon their recent framework purchase of Beluga.
The mobile application is now available in the iOS App Store and Android Marketplace. This application is a result of its recent acquisition of the group messaging service Beluga. Outside of the official Facebook application, the company has never before released another app till today.
The application is all about real-tim communication, all messages communicated are sent and received in real-time with no refreshing required.
The application is much like the existing Beluga app, it has a very simple interface with straightforward controls for anyone to communicate. A user will simply login with their Facebook information and after logging in will be taking to recent Facebook chats and messages that are already existing in their profile. Users can continue conversations or create a new one. A great feature gives users the ability to send messages via Facebook Messenger or SMS message.
Facebook Messenger also allows users to send photos to their friends with the application. Another exciting feature lets you give message threads a name for easier organization of messages.
An element for frequent Facebook Messenger users is its alert system. Users have an assortment of options to receive alerts for new messages or just turn them off to never alert them of incoming messages. An additional customization allows for messages to be delayed for an hour or until the next day. The alert settings can be customized for individual messages or for all message threads.
In their release, Facebook says that its official app will eventually tie in all of Messenger's aspects, but they believe that having an app dedicated to messages is something that its users will benefit from.
Check out the application and let us know what you think of it.