Facebook To Release Q&A Feature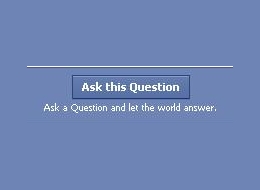 Facebook is starting to roll out a new Q&A feature to challenge a slew of sites. It's also interesting to note that this app competes with Mahalo, owned by prominent Facebook-quitter Jason Calacanis, and with Quora, which was founded last year by former Facebook employees. If you'd like to beta-test the app, you'll have to submit and answer three questions of your own first. These introductory questions will also give the feature a good running start in terms of content.
On the app's page, Facebook announces, "We think it will be as exciting as Facebook Photos and Facebook Events, but we need your help to make it great… You'll be the first person outside of Facebook to use this product." Beta testers are requested to "ask great questions and provide great answers about your favorite topics." Facebook is trying to ensure knowledgeable, thorough answers by requiring participants to cite references when applicable and banning plagiarism.
Beta testers will be brought to California to tour Facebook's Palo Alto headquarters and meet the team that built Q&A for the network. And these days, no Facebook app introduction would be complete without a caveat about privacy. "Your expert writing will be seen by tens of millions of people," reads the page, "including job recruiters."