Free Starbucks And Tim Hortons Coffee Scam Hits Facebook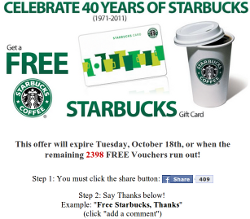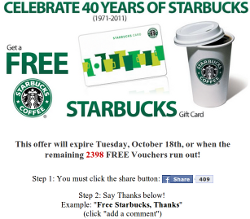 Facebook scams happen all the time, but it has been awhile since we've seen such a widespread one. This time it involves offering free coffee, and who doesn't love free coffee? By taking part in this you can receive a free voucher for coffee at your favorite coffee place, Starbucks or if you're in Canada Tim Hortons.
First reported by Sophos, the root of the scam comes from the request for you to "Like" a Facebook page and share it with your Facebook friends in exchange for a free voucher for coffee. This first started in Canada with the offer for residents to get a Tim Horton's voucher, as of today its spread to Starbucks in the US.
This scam is similar to ones before it, offering free things or the access to Justin Bieber's phone number. Most cases are just to get more likes to a Facebook page, but some of the most invasive ones require that you install a application into Facebook for you to receive a non-existant voucher for free goods.
Both situations will ask you to provide information into Facebook in order to receive it, including your email address and other sensitive information.
The danger with scams like this, is their ability to spread like wild fire. Facebook is one of the most active social sites on the web, that means millions of connections and friends sharing information with other friends. The ability for something to spread through Facebook is at an unmeasurable scale.
Unlike email scams, these Facebook scams are coming from friends that you have and know, not some random email that your junk filter usually catches. When it comes from your friends you re less likely to think twice about clicking a link or following what they are saying.
The only ones to trust are the official pages for products like Starbucks, don't take others word for it when they say if you like a random page that you can get something free. Most likely it will always be a scam.
If you have been affected by a scam like this or something similar, it is advised that you change your passwords on Facebook and any other sites that use that password with.
Beware and think twice about anything you click on Facebook.