Google Wallet Launches On Sprint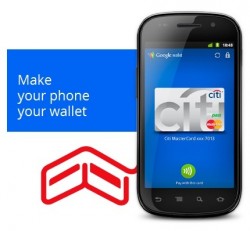 Google announced today that they are launching their Google Wallet service which will enable users to pay for products with their phones. Google Wallet launches on Sprint and enables users the use of Visa, American Express and Discover to pair with their phones to pay for products.
Google Wallet lets users pay with their credit card and Google Prepaid Card which can be funded with any regular plastic credit card. For early adopters to the service, Google will add $10 to the account when they are all set up, that's free money right there that you could pick up.
Google Wallet pledges "a commitment to an open commerce ecosystem" in their blog post,
We appreciate Citi and MasterCard for being our launch partners. And today, Visa, Discover and American Express have made available their NFC specifications that could enable their cards to be added to future versions of Google Wallet.
Google's goal is to make every credit card available to link with the Google Wallet service. They have high hopes for the service and the public is looking forward to doing away with their plastic credit cards and going all digital.
We'll see how this works out and how long it takes for producers to integrate this type of system with their consumer services. Google will be bringing Google Wallet to more phones in the future. To learn more visit http://google.com/wallet and view the video below for more information.
http://www.youtube.com/watch?v=DsaJMhcLm_A