CyanogenMod Brings Fully Working Android To HP TouchPad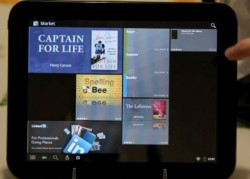 Looks like the CyanogenMod team is constantly trying to put Android on the HP Touchpad. Recently, they released a video showing that they have successfully enabled the Wi-fi module on the Touchpad. With the Wi-fi module successfully enabled on the device, the market app is available as well, though it is formatted a bit awkward due to the Touchpad's 9.7 inch screen and a 1024 x 768 resolution.
Another addition is the accelerometer support, which allows the user to automatically rotate the screen simply by changing the position of the tablet from portrait to landscape and play video games that utilizes the accelerometer. Other inclusion with the update to their build of Android for the Touchpad include audio support.
In the video, they are able to run the koi pond live background quite smoothly with no interruptions or glitches or freeze-ups shown.
Although most of the Android software works, the included YouTube app does not work as of right now (though accessing YouTube from a web browser works). Also, in the video, the Touchpad was shown to use only one of the two cores on the device. Though, after the video was recorded, the software was updated to support both cores on the device.
As of right now, the CyanogenMod 7 team won't be releasing their Android port for the HP TouchPad to the public until some more of the kinks are worked out. Though, when the software is released, many Touchpad users will flock over to Android.