Griffin Technology HELO TC CES 2012 First Look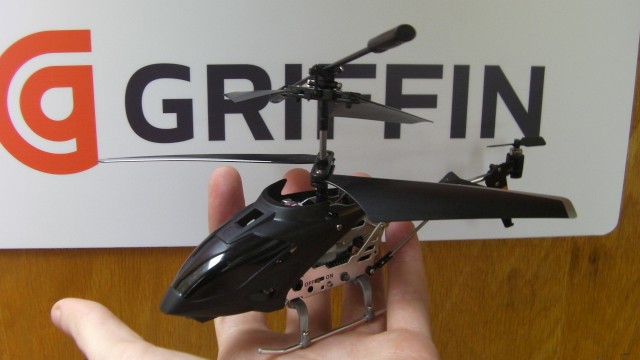 LogicLounge got a first look at the Griffin Technology HELO TC. An easy-to-fly indoor RC helicopter you control with your iPhone, iPad or iPod touch. The helicopter comes complete with twin-rotor remote-controlled helicopter and Flight Deck.
The Flight Deck plugs into your iOS device's headphone jack and beams infrared commands to the chopper. This allows your iPhone to communicate to the helicopter to control it. It uses line-of-sight to be able to control so you couldn't make it fly around walls without having to follow it.
The app takes RC flying to a whole new level with unique features like Auto Land and right-handed vs. left-handed flying. You can use a virtual joystick on your Multi-Touch display to maneuver the chopper, or tilt your iOS device to move the chopper forward, backward, and side to side.
What the coolest thing is that you can fly up to three HELO TC copters at one time, in one place, by simply changing channels from within the HELO TC app.
We enjoyed the HELO TC and it's a great gift for anyone, young or old.
Get your HELO at Amazon! http://lgic.co/helotc