Interpol Seeks WikiLeaks Founder Julian Assange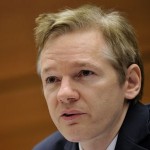 Interpol, The International Criminal Police Organization, has issued a wanted status for WikiLeaks Founder Julian Assange.
Interpol is looking for Julian Assange, WikiLeaks Founder, for a sex crimes. According to the wanted post, the International Public Prosecution Office in Gothenburg, Sweden wants to charge Julian Assange with sex crimes tied with a WikiLeaks related event there months ago.
The warrant is over accusations of sexual assault, made earlier this year by two women he met in Sweden. The start of this matter was when the two women claimed that he raped them. Those charges were dropped later but has sparked questions to what those accusations are doing to smear his campaign.
Thus-far the case was reopened and sustained itself through appeals court and after beating down the defense, Swedish authorities have issued an EAW (European Arrest Warrant) with the intent to interrogate the WikiLeaks founder.
Currently Julian Assange's status is unknown.