Lenovo All-In-One Desktop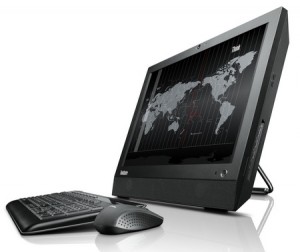 Recently the market has seen an explosion of "all-in-one" desktops, with OEMs striving to achieve the combination of functionality and aesthetic appeal made standard in this class of product by Apple's iMac. IBM/Lenovo has publicized its decision to enter its ThinkCentre A70z into the market along with offerings from HP and Dell to compete with the long stagnant, but classic , offerings from Apple.
Initial impressions label the design as very Lenovo-like, with the stereotypical  solid black lines and business-centric design emphasizing the machine's  "workstation" intentions. Lenovo has positioned solid build quality, simplicity and recyclability as the main marketable features.
At a price of $800, the use of underpowered components is understandable, but not excusable. With only 2 GB of RAM and limiting dual-core processor options from Intel, the machine is clearly not being sold as a workstation, but rather a business solution focused on computing simplicity.