Is Samsung going to release a 'slate' also?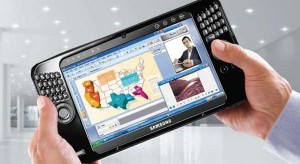 A senior Samsung executive confirmed that Samsung will release a 'slate' PC in the second-half of 2010.  Which means that the Apple's iPad will have a bit of competition.  Though, Samsung hasn't and most likely won't release any further information about it such as the capabilities, specs, or pricing.  But still it's interesting that Samsung is already prepping a 'slate'  PC.
"There is assuredly a good market for iPads, but there is an even broader market for consumers who want an iPad format but also want more functionality, more grunt, more IO (input/output), because while the ARM-based processor in the iPad is a great chip it's not designed for crunching spreadsheets and all those other things that the traditional notebook does." Says the director of Samsung Australia's IT division, Phillip Newton.
It will have a Atom processor from Intel, and will most likely be running Windows XP or Windows 7 Starter, possibly a Linux Distro? Who knows at this point?