LinkedIn Launches Social News For Business Professionals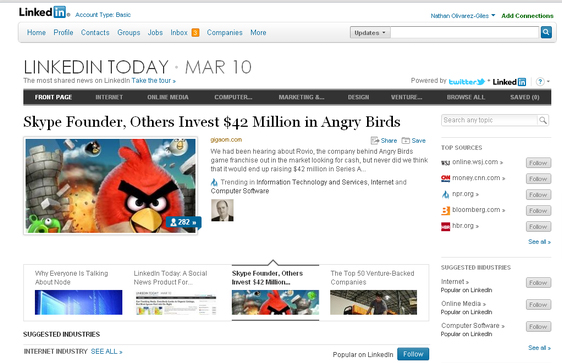 LinkedIn announced today a launch of a new social news site for business professionals looking to stay up on business news. Dubbed LinkedIn Today this new social news site boasts to give the most to the professionals out there.
The press conference at the Mountain View, California headquarters today gave us an insight on LinkedIn's future. With CEO Jeff Weiner and SVP Deep Nishar, they discussed more in-depth of the new product and the strategy behind it. The CEO also took the time to launch and talk about a couple other projects heading live into the LinkedIn network.
At the press conference Jeff Weiner explained the companies three central goals as part of LinkedIn's quest to deliver value to their members. As an obvious goal, LinkedIn wants to be THE professional profile. Secondly the company wants to be the only choice when getting professional insights. Last, LinkedIn wants to be known throughout the workplace and wants to become a common name like Facebook.
SVP Deep Nishar took the stage and talked mostly about the technical side of the company. Massive amounts of business information that pass through their servers on a daily basis, everything from profile views, making connections and providing stats for every user. Deep Nishar explained that it is a huge challenge for LinkedIn to take all this data and deliver its users a way to take this data and use it for business.
Along with LinkedIn Today announcement LinkedIn showed off LinkedIn Skills and LinkedIn InMaps. In shot LinkedIn Today is a professional news product that aggregates and delivers a personalized news experience to each user.