Microsoft Announces Microsoft Surface Tablet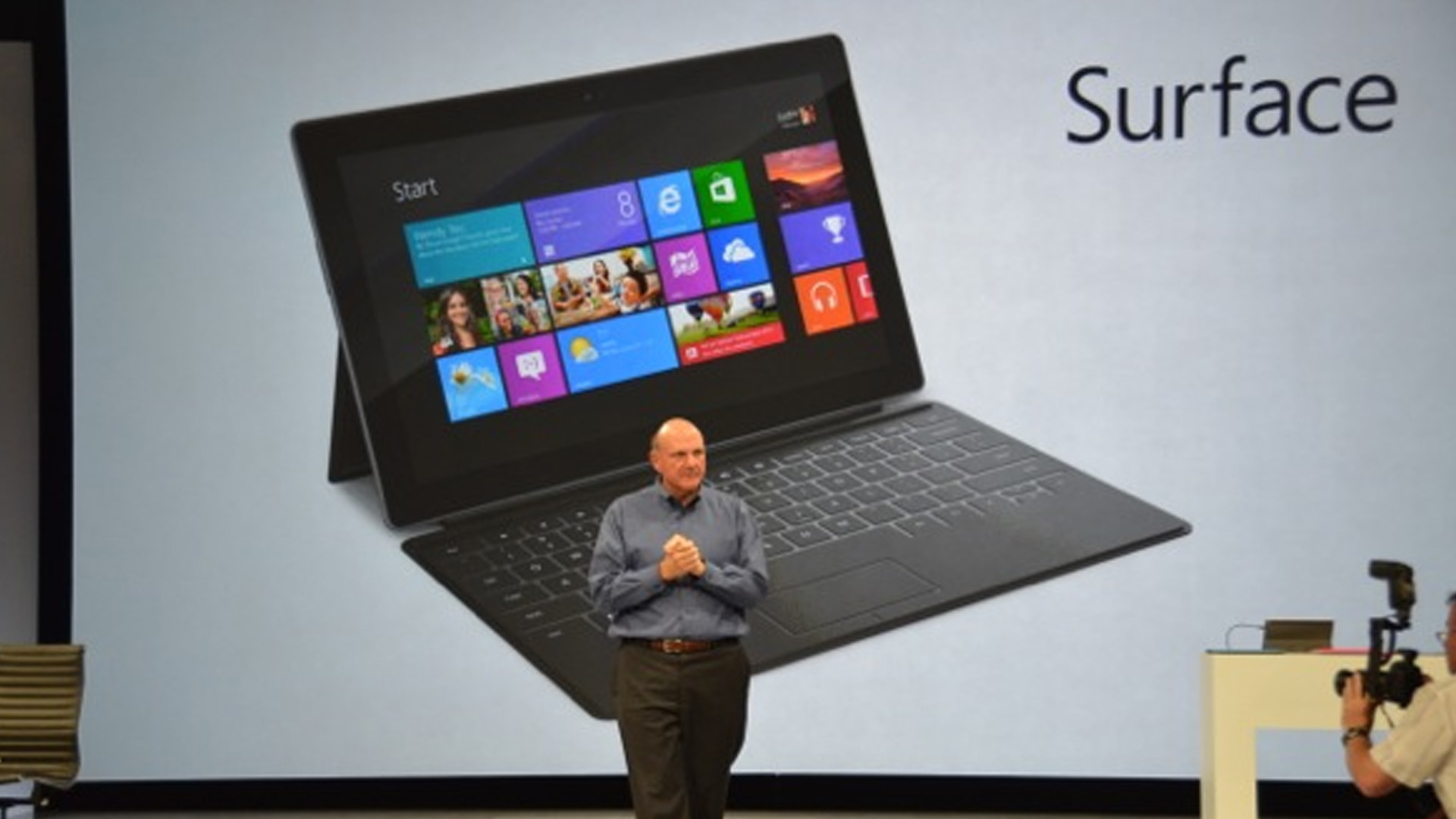 With a bit of a late announcement today, Microsoft announced basically their entrance into the tablet market with the Microsoft Surface Tablet. The tablet is a 10.6-inch screen powered by Windows 8 RT and Pro in the upper end models. Steve Ballmer said that this isn't a tablet but a computer that just so happens to be into the design style of the tablet.
Microsoft's Surface PC is powered by two different processors depending on which of the two models you plan on buying. The Windows 8 Pro version is due to be powered by Intel's Core i5 22nm Ivy Bridge chip running Windows 8 Pro. Or the lower end model being powered by Windows RT on an ARM chipset. The Windows RT version is just 9.3mm thin and only weighs 1.5lbs, the tablet includes a built-in kickstand and is the first PC ever with a vapor-deposited magnesium case. The lower-end ARM version will ship in 32GB and 64GB versions with the higher end going from there on up to what we believe to be 128GB.
The Intel-based Surface tablet will run Windows 8 Pro, with a slightly thicker case of 13.5mm and an additional weight from the baseline model of 1.9lb. Along with the bumped up processor the higher-end tablet includes USB 3.0 support for faster transferring. The Pro version will also include magnesium casing with a built-in kickstand and will ship with either 64GB or 128GB storage. With the additional money that you will be spending for the pro version you also get an additional feature of digital ink support through a pen that magnetize to the body of the tablet. Both of the Microsoft Surface tablets will feature optional Touch and Type covers that allow you to use it in more of a laptop configuration.
As far as software goes we've seen only two things, Netflix for Windows 8 and Microsoft Office were shown today. Starting off with Netflix, we see a customized interface for the tablet with easy interface design in Metro to be manipulated with your fingers to show off exactly what Windows 8 can do. Further on in the announcement we saw Microsoft Office being featured for tablets, it looks like it was made for Aero and runs from Aero in the Metro interface. Both apps which come, we believe standard, with a purchase of the tablet.
Overall we're very pleased with what we are seeing from Microsoft today in terms of what they are bringing to the table. the tablet looks very nice and its form factor competes directly with the iPad. With the addition of a touch keyboard case, running a full OS, and full media ports it really looks like this tablet will do very well when released later this year around the time that Windows 8 is released in October. To clarify the Windows RT tablet will come out sometime in October while the Windows 8 Pro version will be available shortly after that, hopefully for the holidays.
We've taken a look and talked about what will come in the Windows Surface tablet, what is your reaction to Microsoft's announcement? Leave your comments below telling us your reactions!