Microsoft CES 2011 Keynote Recap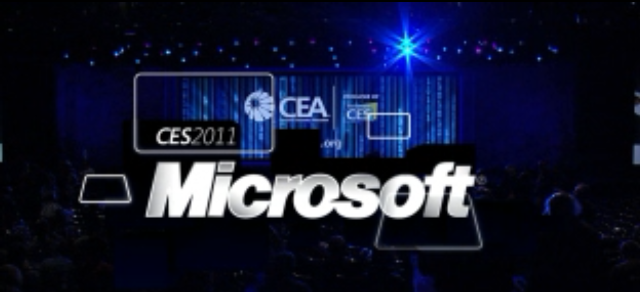 I know most of you are still digesting the information that just came spewing out of Microsoft and Steve Ballmer and here is a quick recap for you of the major event that unfolded tonight.
The keynote started off with Steve getting introduced by the head of the Windows Live team, Steven Sinofsky. Once he was on stage he boasted all of the stats from both Xbox Live, Kinect and gaming hardware. In the past 10 years of Xbox's existence this year is Microsoft's biggest, with a new member joining every two seconds and over 8 million Kinect devices sold Microsoft is booming with new life.
Steve then got straight into the new features coming to the Kinect system. He was taken over by another presenter who showed the new features, including controller-less search. Using your own hand to search Kinect aims to become the media hub without a controller. We also got a glimpse of voice searching, and movie suggestions in the library. The point of this demonstration was to show off all the ways you can use Kinect for more than just gaming.
Then came the big partner announcements, Microsoft hit a home run landing deals with both Hulu and Netflix. Both streaming video services will have enhanced features to search and browse your HuluPlus or Netflix accounts by just voice or hand movements via the Kinect. With an existing partnership with ESPN Kinect will allow users to interact with their friends while watching the big games. A really exciting feature showed off was the voting and polling system allowing friends to communicate and challenge each other to stay social during the game.
During the prime moment of the ESPN recap Ballmer announced a new feature to your Xbox Live avatars called Avatar Kinect. By placing a avatar in a scene you can communicate with your friends via their avatar. A great example is a virtual tale-gate with your Kinect friends sitting in a circle and chatting about the upcoming game with friends. Avatar Kinect is due out tomorrow to Xbox Live Gold Members.
Getting back on stage Ballmer announced many milestones that Microsoft had made over the last year. 30 million Xbox Live subscribers with one joining every 2 seconds. Kinect also sold over 8 million devices in the first 60 days after launch. The Xbox console is not to be left out of all the benchmarks unfolding from Microsoft, the Xbox has been the #1 selling console in the U.S. for the last 6 months with 50 million Xbox 360 consoles worldwide.
Ballmer then moved on to the Windows Phone 7 and their recent major launch. Xbox Live is now integrated into the new Windows Phone 7 devices allowing players to game right from their phone with all their points and gaming scores transferring to the Xbox Live account associated with the user. Also, since the amazing success of Fable on the original Xbox, Windows Phone 7 users will be able to game directly on their mobile device. Lastly, Ballmer took the time to note that Window Phone 7 will be coming to the Sprint and Verizon networks with in the first quarter of 2011.
Going over a massive amount of success of Windows 7, Microsoft is sells 7 copies Windows 7 a second. Despite all the attention over Windows 8 being released, Microsoft has no intentions of showing off the new operating system this year at CES. What they want to show us is the hardware advances they are making.
On comes another presenter to show us what Windows hardware advances they are making. Lots of chip advancements were being shown off. Including a fan-less slim touch tablet, dual screen laptop with no physical keyboard, and a super thin tablet PC. Microsoft also showed off their ARM devices that fit a while computer onto a cellphone sized chip making it light and produce less heat. This System On Chip (SoC) is what Microsoft is placing a big bet on to be the future of mobile devices and needs of the consumer.
Last, but not least Ballmer introduced us to the next generation Microsoft Surface. The old box design went out the door and was replaced with a four inch thick TV looking flat panel. No longer needing the cameras, the Surface uses each pixel as a camera to detect what is interacting with the Surface. With this more advanced version of the Surface papers can be read by the Surface and translated into identifying a user or object placed on the Surface.
This year for Microsoft, as pointed out, is nothing new but existing products being upgraded and modified.
To get more CES 2011 news and tweets, follow @Craighton on Twitter for more news at CES.