Microsoft Surface To Be Released With Windows 8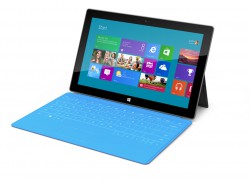 An update to Microsoft's Windows 8 announcement a while ago.
Microsoft has recently confirmed to Cnet that their Surface tablets will come out on October 26, the same date as Windows 8 to come out. In an annual report filed with the US Securities and Exchange Commission, Microsoft said
"The next version of our operating system, Windows 8, will be generally available on October 26, 2012. At that time, we will begin selling the Surface, a series of Microsoft-designed and manufactured hardware devices,"
Although Microsoft said that the Surface products would be released the same time as Windows 8, this applies reassurance that the device will be released as well as Windows 8. The device will ship in either 32GB or 64GB flavors. Though Microsoft will release the Surface on the same day as Windows 8 comes out, it is only the Windows RT tablets (which is a ARM-powered device) will be released a that time; and the intel Intel-based Surface Pro tablets (which has the full Windows experience) will be released some time later in three months (Microsoft says about 90 days, which is expected to be released on January 2013).
As of right now, Microsoft has not released pricing for the Windows RT surface tablets or the Intel-based surface pro tablets yet. This could be the possibility that Microsoft is concerned over reports and data that the iPad is widening its lead in enterprise over Android tablets. Though if you want to get one, Microsoft said that the devices will be sold through the company's handful of bricks-and-mortar stores and its online store. Although it is hinted that the device will be available outside the US, though not confirmed.