New MacBook With 10-Hour Battery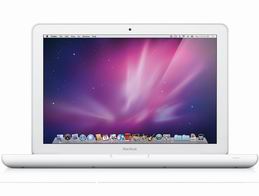 Apple has refreshed its long forgotten MacBook line, offering a super sleek and super fast Nvidia's GeForce 320M graphics bundled with Intel's 2.4 GHz Core 2 Duo CPU, all for the baseline price of $999.

Apple is taking a hit with this MacBook because a 13-inch MacBook Pro with similar specifications costs around $1,199. The MacBook may seem like a good deal, but the MacBook Pro does have a lot of goodies for the extra 200 bucks including, 4GBs of RAM instead of 2GB, a FireWire port, a memory card reader, an audio in jack and the famous unibody aluminum enclosure.
However, what sends this MacBook over the top is Apple's promise of a 10-hour battery life, which is the same as the MacBook Pro. So if long uninterrupted battery-powered sessions on your laptop are a top priority, the little guy prevails over the big brother.