Pillowsonic Stereo Pillow Speaker [REVIEW]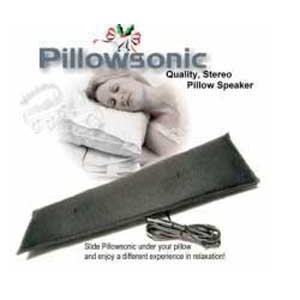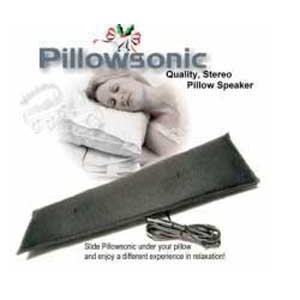 Everyone has their own way of sleeping; some needs silence to sleep, some need music to sleep, etc. But what if you are in a room that has someone who needs music to sleep and another that needs silence to sleep? One solution is a pillow speaker. Unlike standard speakers, pillow speakers are encased, usually, in a plastic container so that your head will not damage the speakers.
Recently, we went out and bought the "Pillowsonic Stereo Pillow Speaker" from Amazon to test out for around $18 from Amazon. The results were rather pleasing. The device uses the regular 3.5mm audio connector, which you can use with just about any device that has a headphone jack (like an iPod, most smartphone, etc).The pillow speakers are encased in a small, pillow like, foam cover to create comfort. Unlike other pillow speakers, the "Pillowsonic Stereo Pillow Speaker" has dual speakers for stereo sound rather than a single mono speaker and producing one side of the sound, which can be useful if there is a music or 99% of television shows that take advantage of stereo sound. After following the directions on the directions by laying the device under the pillow and connecting it to the headphone port of a music playing device, you can listen to audio without a problem. Although it is not Bose quality, the sound is quite clear than the other pillow speakers we tried (and most of them have only one speaker for mono sound and distort audio in certain frequencies).  The downside is that there is no volume controller on the wire  to control the sound from the device, though there is usually a volume controller on the device itself. In addition to the Pillowsonic speaker, the package also includes a free relaxation CD to help relieve stress or to help sleep.
This device is especially useful if you are in a college dormitory or in a small room with other people living in the same room. You can listen to your audio without distracting other people near you. You can get one from Amazon for around $18 + tab (where applicable).
*Note that the image shown is from the product description image shown on various stores and the package we purchased was slightly different from the image shown.