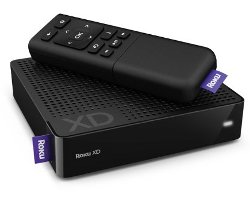 Editor's note: This is a guest post by Anthony Guidetti, view his Twitter and YouTube.
Considering cutting cable and just keeping the internet? The Roku could be for you. The Roku is a content streaming device that plugs into your TV or projector and plays internet services like Netflix, Hulu Plus, Amazon Instant Video, and many more. When you first unbox the Roku, it comes with an easy to use remote, and RCA cables. The Roku can be used with either a standard 4:3 TV or a HDTV with 720p or 1080p, depending on which model you chose. Once you have the device all plugged in, you have to select which way you want to connect the Roku to the internet, either by wired or wireless. Then you create your Roku account, and you're all set. The Roku was originally designed for Netflix, but even if you don't have Netflix account or any other online subscription, you can still use other channels you download in the Channel Store, such as Pandora, Twit.tv, Revision3 and my favorite: Crackle, which lets you watch your favorite Columbia Pictures movies, for free.
I use Hulu Plus and streaming videos on the device is flawless. The stream was smooth and consistent, with no skips or grainy footage. One thing I'm not too happy about is when you fast forward or rewind, it doesn't follow with the moving footage, so you have to guess how far you need to go back or forth. The menu transitions are also very fast. One great thing about the Roku is that it is always on. There's no need for long startups or making sure you turned it off when you leave the house, it just stays on. If you leave the Roku on the home screen or a menu on a channel, it turns the screensaver on, which turns on when you tell it to, and can be personalized to fit you. The Roku itself is small and quiet. You can put it anywhere on the TV stand and it blends in. The only light on the device is on the front, which indicates when you press a button on the remote.
The starting price of the Roku is $59, which is cheap compared to other streaming devices. Overall, if you are looking for a new addition to the home theater, or just needing an alternative to cable, the Roku is something to think about. I definitely recommend this.