T-Mobile to Add Unlimited (Unthrottled) Data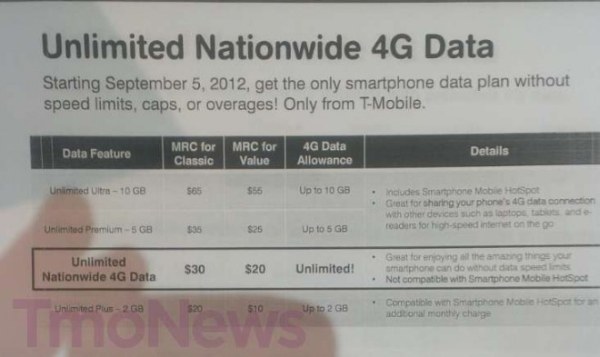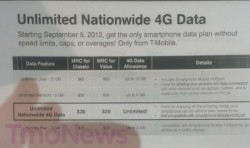 As more and more wireless telecommunication services are dropping unlimited data in recent years, Sprint and T-Mobile have provided unlimited data; though T-Mobile had a catch with their unlimited data (at a certain level, your speeds will get throttled down). That is about to change.
First reported as a rumor but confirmed in less than a couple of hours, T-Mobile announced the introduction of  "Unlimited Nationwide 4G Data," an add-on to the voice and text plans that include truly unlimited mobile data services, that does not have any throttle or caps, to its HSPA+ services. The add-on will cost $20 for "Value" plans and $30 for regular plans. Though the service is truly unlimited, you cannot use your phone as a hotspot under this plan; if that case, you will need to go back to plans that throttle once you hit 5GB or 10GB monthly. T-Mobile also notes that it is not a promotional offer, the prices are not going anywhere soon.
For a plan with unlimited talk, unlimited text, and unlimited 4G data, it will cost $90 per month. Compared to AT&T and Verizon with 4GB of data, T-Mobile will be $20 less per month and $19.99 less than Sprint.
T-Mobile is also in the process of upgrading its services to support the 1,900Mhz HSPA+ band, which will allow any AT&T phone to work with T-Mobile. When the upgrades are complete, T-Mobile could offer the iPhone; though it is uncertain if T-Mobile and Apple are negotiating at the moment. Expect the 1,900 Mhz band to be up and running by the end of 2012.