Youtube Launches New Cloud Video Editor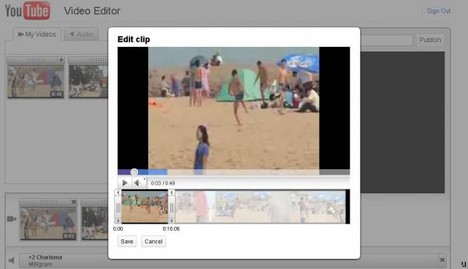 Youtube has just released a new video editor ant lets you create videos from your existing video uploads. The service will let you create smashups from previous videos uploaded onto the site. The editor also comes with Youtube's Audioswap feature to add or change the audio of the video from a library of Youtube's commercially licensed songs. Currently the service is very basic like Windows Movie Maker, but it can be useful for users to do basic video editing.
The service is built on JavaScript elements in a flash player. With all of the service in the cloud on Google's servers storing the video and rendering out the video, the user does not need a higher end computer to do simple video editing. The service lets you trim individual clips and then arrange them in a timeline with the ability to adjust the audio as a separate track in the editor.
As for Youtube, they are listening to feedback on this new service.  We could possibly see a more advanced version for the Google Chrome OS and hope it will be like Youtube's Remixer released in 2007, but  just not that buggy and slow.