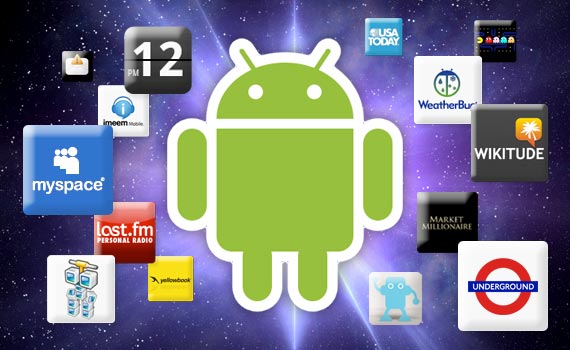 So you have a Android device right? Ok well if you do, you know its a hassle trying to find good and useful apps in the sea of apps they call the Android Market. I myself have 83 apps, with 72 of those free (86%), and 11 paid (13%). Now out of all 83 apps on my phone and the thousands in the Market, not every one is a winner. In this article I will share with you essential Android apps that you should be putting on your phone when you buy it.
SystemPanel Lite
Price: Free
SystemPanel Lite Iis a beautiful and simple system pannel and task manager.
It logs your CPU/Memory, shows you all running apps, it also ends unwanted apps from running.  All of these features are packaged into a really pretty UI for free.  For the average user the free version is great however they do offer a full version for $2.99.  The full version adds app manager (installer/uninstaller with multi-version APK archival), and long-term application resource monitor to solve app-related battery life problems. The free version will show you some advanced and useful information displayed in  a simple and elegant way.
—
SoundHound
Price: 4.99
SoundHound is similar to a free application called Shazam, they both identify music from a short sample.  SoundHound will not only find the song that is playing on the radio but will allow you to sing, hum or search for the lyrics and or artist! It only takes about 5-10 seconds to recognize the song and once it does it will give you the, artist, album, lyrics, music videos, the ability to bookmark the song. My favorite feature is the ability to  share the information with your friends. So for a couple lattes, you get a plethora of information for many forgotten songs to come!
—
Epicurious
Price: Free
Epicurious features over 28,000 different Recipes at your finger tips. The home screen features a list occasions that you would need recipes for such as Fourth Of July or Thanksgiving. What I find to set this application apart from the other is its  search options. With the search tab you can search by, main ingredient, course, cuisine and a few more.  I find this to be a really helpful feature when the pantry is low and you only have a few ingredients here or there. An important feature Epicurious showcases is the ability to bookmark recipes for later in addition a shopping list! The application has it's own website (www.epicurious.com) where you can see the feedback on recipes!
—
Lookout Mobile Security
Price: Free
This application is about protecting your valuable phone. Lookout Security features Anti-Virus, Backup and Find My Phone all in one. To help manage the services you can create a free account at mylookout.com. My favorite feature by way of the website is if you lose your phone you can logon to mylookout.com and find the location of your phone on a map. Another excellent feature of the website is the " Scream button" it will have your phone make a sound even if it is on silent.  I find this app to be one of the most handy apps around keeping you safe and secure with your Android device.
—
ShopSavvy
Price: Free
Use this app to search for products with barcodes or QR codes. The app will launch your camera with a special barcode scanning overlays. You simply point the camera at a QR or barcode and wait for the beep  it will then search for the product online giving you the best prices online and locally. A very handy application for saving money on the big unexpected purchase you make at Best Buy.
With such a large Application store I am sure there are many more gems in the field share them with my in the comments. Feel free to find me on Twitter too, @Nolotto