2011 MacBook Pro Unboxing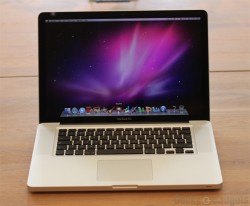 I've done it, I've gone to the dark side, so to speak. After years and years of fiddling around with Windows-based computers I took with I had and got out. Windows-based computers have just caused problems left and right for me. My last computer, an Dell XPS M1530 worked alright for 4 years. But, it came pre-installed with a virus, Windows Vista and downgraded to XP as soon as I received it. Even then I had so much trouble with the computer that I felt I was called Dell tech support every month.
First, my hard drive failed and I was left without a computer for 3-days while Dell shipped me a new one. That was just the first layer of the cake, next my display kept getting color lines through it and when I called Dell they said I would have to pay $500 to replace the screen because they determined that it wasn't covered in the warranty. I was forced to go out and get an external display and only payed $200 as opposed to $500 to get it replaced. But it doesn't stop there, a couple of months after that my graphics card decided to give up and just stopped working all together. Dell knew of this issue and offered to replace it, but I would have to wait a month and a half to get it replaced.
Long story short, I haven't had a good track record with Windows-based computers.
Today, I bring you the early-2011 MacBook Pro with the following specs:
2.3GHz Quad-core Intel Core i7
8GB 1333MHz DDR3 SDRAM
500GB Serial ATA Drive @ 7200 RPM
8x Double-Layer SuperDrive
15″ HR Glossy WS Display
AMD Radeon HD 6750M with 1GB GDDR5