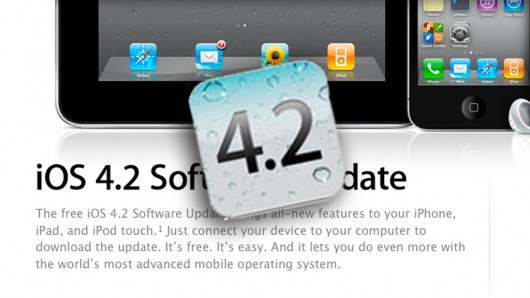 During last week's iPad 2 event, Steve Jobs announced the release of iOS 4.3 with the shipment of the iPad 2. Although, iOS 4.3 was announced to be released on Friday with the iPad 2 release, Apple gave us a small present of releasing it 2 days early.
iOS 4.3 has numerous updates to speed up the device considerably and include tethering on the AT&T iPhone 4. One of the main features Apple wants to highlight is the new Nitro JavaScript engine, which will increase Safari's browsing speeds. Included in this update offers enhancements with AirPlay and iTunes Home Sharing.
One of the features iPhone 4 owners will be anxious to get their hands on is the Personal Hotspot used for sharing Wi-Fi to other devices.
iPad owners will be joyous to find in iOS 4.3 that allows them to use the hardware switch on the side of the iPad to lock the orientation. Apple built in the ability to change that button to mute the audio with this newest update.
It is easy to update your iDevice to iOS 4.3, just plug in your device to iTunes and click "Check for Update" on the device menu.
This update contains new features and improvements, including the following:
Personal Hotspot*
Share iPhone 4 cellular data connection with up to 5 devices (combination of up to 3 Wi-Fi, 3 Bluetooth, and 1 USB)
iTunes Home Sharing
Play music, movies and TV shows from a shared iTunes library on a Mac or PC (requires iTunes 10.2)
New AirPlay features**
Play videos from the Photos app including the Camera Roll album, iTunes previews, enabled third-party apps and websites on Apple TV
Play slideshows from Photos on Apple TV using transitions available on Apple TV
Faster Safari performance with Apple Nitro JavaScript engine
HD video out using the Apple Digital AV Adapter***
View 720p HD videos from Videos app, iPod app, Photos, YouTube, Safari, Keynote, and enabled third-party apps on an HDMI display
Ping features
Push notifications for comments and follow requests
Post and Like songs directly from the Now Playing screen
Parental controls
New Settings
Messages setting for number of times to repeat an alert
iPad side switch setting to lock screen rotation or mute audio notifications and sound effects
Single tap conference call dialing with a pause to send a passcode
Bug fixes

*Requires iPhone 4 with tethering data plan
**Requires Apple TV (2nd generation) running software version 4.2 or later
***iPhone 4, iPad, iPod touch (4th generation)