Reeder For iPhone [Review]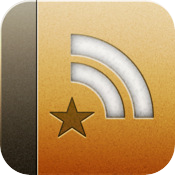 Since its inception in 1999, RSS feeds have changed the way a lot of people get their information on a daily basis from the web. Rather than visiting each site individually, this can be hard when you keep track of 10, 20, 30 or even more sits, it's possible to consolidate all the information into one central location using an RSS reader. The most common RSS reader today is Google Reader, which allows a user to import all their RSS feeds into the one web application.
For some people including myself it is a way of like. Naturally, people like me need a simple RSS reader for on the go reading of all our RSS feeds. Lately, for this use I've just used the mobile version of Google Reader which isn't bad but it is a pain to navigate and every time I want to share or star a story I have to manually copy the link and title.
A friend who relies on RSS readers for his daily life suggested this app to me awhile back and I thought I would give it a try.
At its core Reeder is just a simple application that syncs unread and starred items from a Google Reader account. For the new user just downloading this app, you are prompted to enter your Google account info so that it may connect to your Google Reeder information. Once logged in Reeder syncs all of your feeds, and all sync setting can be setup in the iPhone Settings app.
The sync options are virtually unlimited, with the ability to sync only a days worth of updates or get everything that is unread even from last year and beyond. The really neat ability of Reeder is to take your existing folders that you have set up in Google Reader and bring them over to Reeder. For the media junkies alike, if you like the simple all-in-one list it is easy to swipe and enter that list to see all unread items. All folder can be sorted by date or by individual feed.
By default when your feeds are synced, images and the content of the feed are cached and downloaded locally to view and read offline. Clicking on the article title will pull up the in-app browser and navigate to the story on the full website. For the Instapaper users, when viewing the list of articles it is a simple swipe to send the article to your Instapaper account or any other of the various services that you can set up in the settings. This goes the same when starring an article, just swipe the title of the article aside and it can instantly be starred for you to come back to.
Reeder has an amazing UI that puts it above the rest, grey text on a beige background differs from any other app and provides and easier on the eyes reading experience. I have yet to find a feature that I wasn't wishing the app had, it is all there at my finger tips. Easily being able to manipulate the article to send it to an email, Facebook, Twitter or any other social networking account.
Syncing a large number of articles, we're talking 100+, can take a really long time to sync fully because it has to cache every page. For the patient users this is no problem, but when surfing around during a sync performance can become sluggish and glitchy.
Overall, Reeder is an amazing app with a kick ass UI that makes other RSS reader apps cower in fear. Out of the numerous RSS readers I've tried this is the only one I want to recommend to friends looking for a nice RSS reader.
Download Reeder now for $2.99 in the iTunes App Store