Apple Unveils iPad Mini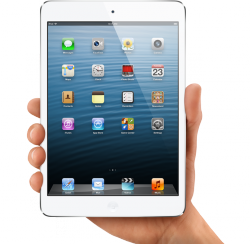 After months of rumors after rumor after rumor we finally set our eyes on the brand new tablet from Apple, the iPad mini. This 7.9-inch tablet is the newest in the lineup from Apple and surprisingly doesn't imped on their current market. The main selling point of this tablet is that you can hold it in one hand and use it easily.
Although Phil Schiller says it "isn't just a shrunken-down iPad," he's wrong in a way because the screen dimensions mimic that of the full sized iPad and require no special modifications from developers to run applications. Everything that runs on the iPad natively, can run on the iPad mini natively.
The iPad mini is encased in a 7.2mm alumuinum shell, which will be colored based on if you get the black or white version. If you opt for the back version, the case will be a brushed black back, while the white one will have a plain silver back. Compared to the new 4th generation iPad, the iPad mini is 53-percent lighter and 23-percent thinner.
On stage, the iPad mini was compared to the Nexus 7, with Phil pointing out that the iPad mini is an all metal enclosure while the Nexus 7 has a plastic bezel and parts. He points out that the bezel is a lot bigger on the Nexus 7 and is a lot larger than the iPad mini.
The iPad mini runs on an Apple A5 processor with the capability to have LTE. The device also features a megapixel iSight camera that can sustain 1080p video and a 720p FaceTime camera on the front.
The iPad mini will start at $329 with the base line wi-fi version and comes in 32GB and 64GB jumping in $100 increments from $329. The LTE version with start at $459 and jump up $100 like the wi-fi version. You'll be able to pre-order the iPad mini starting Friday, October 26th and will ship out the wi-fi version on November 2nd while the LTE version will come two weeks later.
LogicLounge will be acquiring a iPad mini wi-fi version and later a LTE version, so stay tuned for our unboxing and review.