eBay launches Exact on iOS: 3D Prints Galore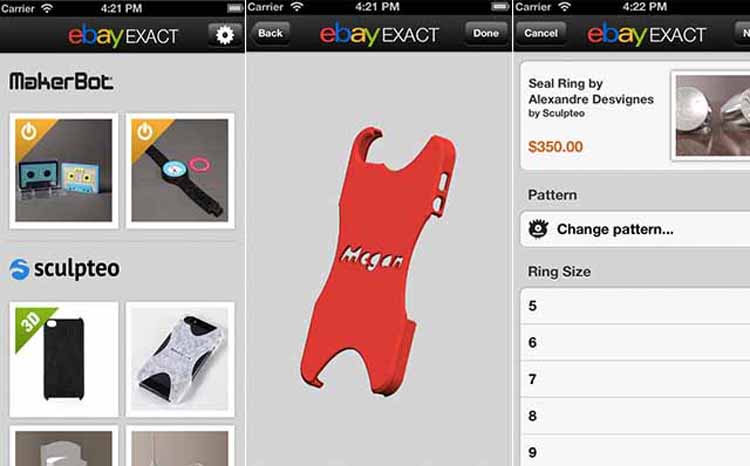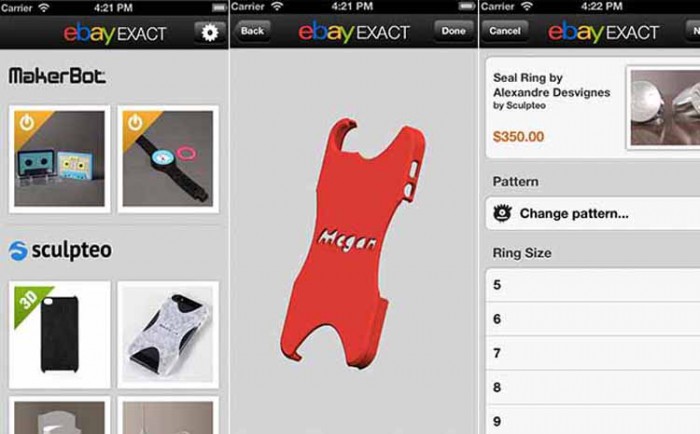 Even though you don't have a 3D printer around right now, it doesn't mean you can't print 3D objects.
Recently, eBay jumped onto the 3D printing scene with the announcement of a new app for iOS called eBay Exact, an app that lets you browse, customize and print 3D objects from MakerBot, Sculpteo or Hot Pop Factory right from your mobile phone.
Currently, the service has about 20 different things you can print, of which are mainly tech accessories and jewelry. The items range from under $10 (for iPhone cases) to $150 (for figurines) to $350 (for rings). After selecting the item they want to print, users can change the color, material, engraving and more. After selecting how they want to print their item, users can pay with PayPal and have the item shipped to their home in 7 to 14 business days.
Even though eBay is not the first company to announce a 3D printing service, it is one of the first companies that allow users to easily choose, customize, and print right form their mobile phone. Companies like Amazon has already launched its own 3D printing store in June; and services like Etsy and Maker marketplaces offers custom products for sale (of many of them are 3D printed).
As of right now, eBay is labeling the service as beta; which likely means that the company is just seeing if it is a success. Even though the company stated that it is an iPhone app, the app can be downloaded onto iPod touches and iPads. You can download the app from the iOS App Store and see their list of available items that you can print and sent to your house.