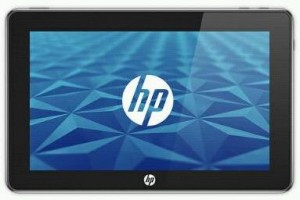 HP has announced their Slate recently, and Apple should be worried about it.
The display is a 8.9″ WSVGA 1024 x 600, wide viewing angle multi-touch panel, flush display, with an ambient light sensor. Â It has a 1.6GHz Intel Atom processor with 32 or 64GB flash storage, upgradeable with SD card reader. Â It also has 1GB (DDR2) RAM which is not upgradeable.
The HP Slate has an 802.11b/g + Bluetooth, and optional 3G.  One of the many good things about it is that it has a SD/SDHC/SDXC card reader and supports up to 128GB, 3.5mm headphone/mic jack, One USB 2.0 port (also a great feature) docking connector.  The iPad doesn't have an SD card reader nor a USB 2.0 port.
The HP Slate will be running Windows Home Premium with HP touch-optimized interface. It will have  a 2-cell WHr polymer (non-customer replaceable) battery with up to 5+ hours of use.
Guess what?! It has a VGA webcam (inward-facing) and a 3MP camera (facing outwards.) Yeah that's right, does the iPad have that? Nope.
In most aspects, the HP Slate will win over Apple's newly release iPad.  the only things that the iPad is better with is it has a 1024 x 768 display (not a huge difference compared to HP Slate's 1024 x 600.)   The iPad has 802.11a/b/g/n , instead of HP's 802.11b/g (again not a huge difference.)  The major thing that the iPad is better with is the up to 10 hours that it provides, compared to HP's 5+ hours.
The slate runs between $549-$599, whereas the iPad runs at $499-$829 (depending on if you get the WiFi, or the WiFi + 3G.
Personally, I'd rather have the HP Slate.  It actually has an actual operating system, not an OS that looks terrible on the iPad.  And,  has a lot of useful features that the iPad doesn't, but that's typical with Apple products.  And yes, it will run Flash!
I am glad though, that Apple started this Slate business, I think it's a good product, just needs to be developed.