Which iPad is Right For You?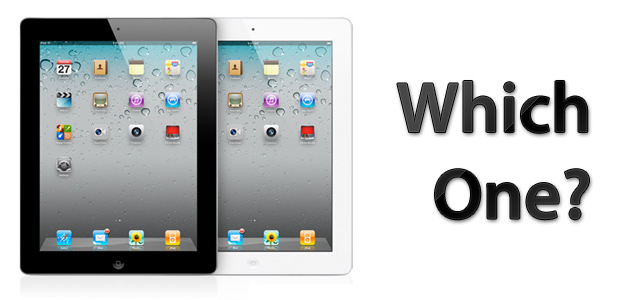 If you don't have an iPad already, now is the perfect time to adopt one into your life. With the recent launch of the new iPad, you may be wondering which capacity you should invest in, or if you would be better off saving some extra cash and buying a previous generation model.
Let's start with capacities.
16 GB – The Streamer:
If you're a user who is constantly surfing the web for content, the 16 GB iPad is right for you. With applications like YouTube, Netflix, Hulu Plus, Spotify and Sirius XM, you'll be able to stream all the content you could imagine. As a user of the 16 GB iPad myself, I've used my device for multimedia consumption since day one and have never regretted the choice for a lower capacity.
32 GB – The Gamer:
If you plan on using your brand spanking new iPad as a console replacement, you'll need a ton of storage to fit all your apps/games. Many games in the App Store take up a very large footprint on your device's storage. Just by storing a few games like Mass Effect and COD: Black Ops Zombies on your device, you can easily shave off gigabytes of available space from your device.
64 GB – The Enthusiast:
You're really serious about owning an iPad and are willing to spend $699 on a device that will be replaced in roughly 365 days. If you need the ability to fit an enormous library of music, and you want as many apps you can get your hands (or fingers) on, the 64 GB iPad is right for you.
Previous generation?
The iPad 2 is still a very capable device. In fact, even my iPad 1 still works fine; albeit it's not as fast as I'd like it to be, but nonetheless, it works. If you don't care about having the latest and greatest technology on the block, or you're on a tight budget, a previous generation device might be right for you. Not to mention the countless savings you could make. At the time this article is published, you can get a first generation iPad for ~$250 used or an iPad 2 for $399 new.
Whatever your choice is, the iPad is a magnificent device with an App Store jam-packed with great applications for your enjoyment.